Valentine's Day is a day when families, friends and couples celebrate their relationships and be happy about the fact that they are able to share love and happiness. This day demands to be celebrated in the best possible way – which means people have to arrange a party or dance and music event where their loved ones will be invited.
A Valentine's Day party could be including a nice food meal with one or two different cuisines, a session for heart to heart talks, some exchange of gifts, music. The organizer(s) might want to play some exciting games too. So much planning and finalizing a lot of things but how will be the guests going to know that their friends or loved ones are arranging a Valentine's Day party?
For proper invitations, the organizers will surely need to have sent an invitation card etc. So, what if we told you that you have come to right place? You can help your clients in sending out excellent flyers for the party they are planning to host.
The best parts about our Valentine's Day celebration flyer template is that it is available in Photoshop PSD, Ai and EPS formats and is created in A4 size. But what makes this flyer template design more convenient to use is that it is 100 percent customizable and can be edited according to one's requirements.
The vectors of hearts and flowers are making the design so appealing and the colors which are used to create this template not only enhance the beauty of the look and feel but everything on this design template will force your guests to come over to the party and have a great time with you.
The process of getting hold of this template design is like ABC, purchase the template from us, edit it according to your liking and voila, this invitation flyer is good to go!
Valentines Day Celebration party Flyer Template Design in Ai, EPS and PSD Formats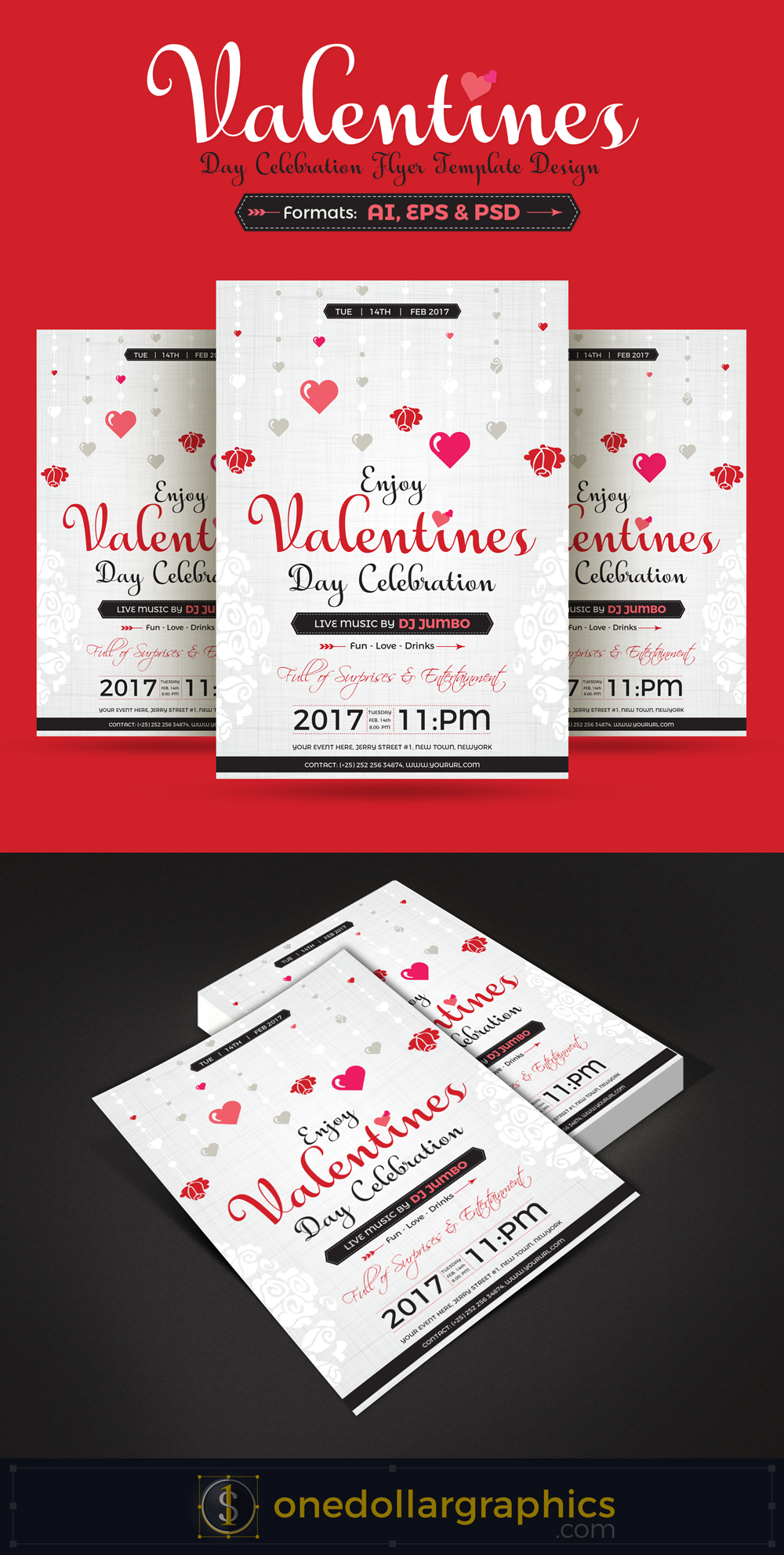 First Version: (Ai, Eps & PSD Files)
For Single Project only
Second Version: (Ai, Eps & PSD Files)
For 5 – 10 Projects
Third Version: (Ai, Eps & PSD Files)
Unlimited Projects
Specifications:
Valentine Flyer Template Size: A4
File Type: Ai, Eps, Psd
Software Version: Illustrator CS6, Photoshop CS6
Resolution: 300 dpi
File Size: 11.6 Mb
File Format: WinRar