The whole month of February is considered to be the month of love – by those who are cherish small things and love to celebrate the day of love and happiness. This day is important for a lot of people as they get to celebrate an official day of being in a relationship with their loved ones.
This day is as special for parents and their kids, for brands and their customers, for friends and their best friends as it is special for couples. People want to spend some quality time with their special people and for this they also arrange a meet up and invite those who mean so much to them.
We, at One Dollar Graphics, make sure that whoever wants to throw a party on Valentine's Day, sends an extremely beautiful invitation to their loved ones with a little effort and a lot of love and positive vibes.
The flyer design template of this flyer is available in three different formats; Ai, EPS and PSD so have the edge of taking the road of creativity and create customized designs on our already available flyer templates.
The best part of this flyer template design is that the size is A4 which means you have a lot of space to clearly mention the details of the event. The vectors go with the cute 'love birds' theme which makes the flyer appealing.
We are sure that once you have made changes to the template design you purchased from us, absolutely no one would want to miss out the chance to attend the very event. The main reason, in addition to other related things is that this party flyer template is enough to evoke interest among people that they would love to join the party.
Creative Valentine Celebration Party Flyer Template Design in Ai, EPS & PSD Formats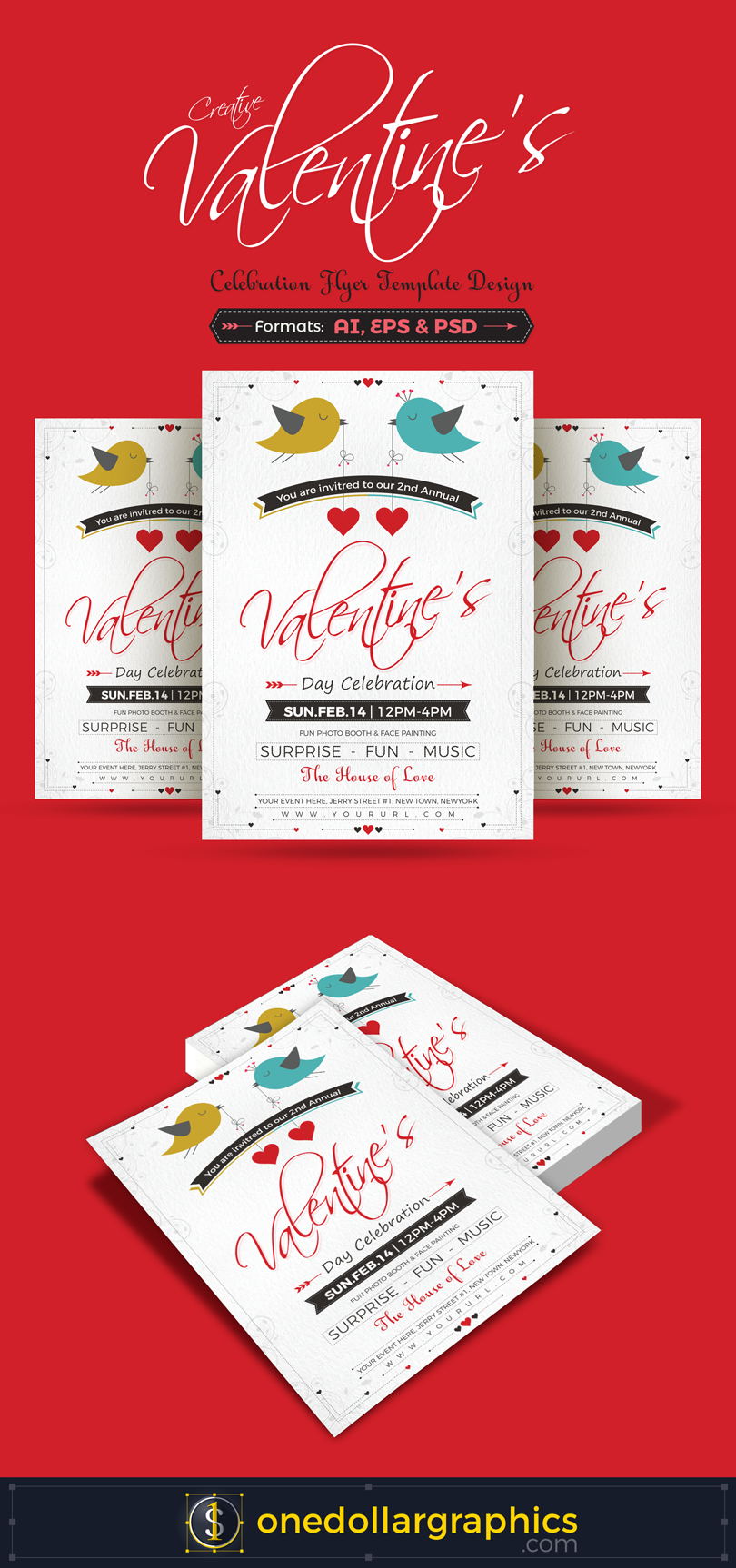 First Version: (Ai, Eps & PSD Files)
For Single Project only
Second Version: (Ai, Eps & PSD Files)
For 5 – 10 Projects
Third Version: (Ai, Eps & PSD Files)
Unlimited Projects
Specifications:
Valentine Flyer Template Size: A4
File Type: Ai, Eps, Psd
Software Version: Illustrator CS6, Photoshop CS6
Resolution: 300 dpi
File Size: 16.6 Mb
File Format: 7-Zip