Every year, when the month of February approaches, couples and eatery owners get busy in inviting their friends and loyal customers over a small get-together so that love and happiness can be shared. It is a very great idea to have small gatherings like these arranged for people who are looking for some quality time to be spent with their loved ones.
So a Valentine's party is planned, food is arranged, a nice band is also expected to play romantic music but then it is found out that no one showed up. And when the reason is investigated, it becomes clear that the party organizers never sent out any invitations. Oh, bummer!
Well, to make sure that your clients do not happen to have a bad day like this – our talented designer at One Dollar Graphics has created this beautiful Valentine's Party Flyer Design Template which is easily editable and can be changed according to the desired requirements.
We would love to tell you the reasons of purchasing this design template from us:
You won't have to create anything from scratch. Our designed template will save you time.
Not many changes will be required on this template except the copy and event details etc.
You can create an outstanding advertising campaign or can design a beautiful invitation flyer.
This template is designed by us. Enough said.
So, stop getting worried. Simply download the PSD of this good looking Valentine's party flyer design template, insert your copy on the template and help your clients host one of the best Valentine's Day parties in town.
Best Valentine Party Flyer Design Template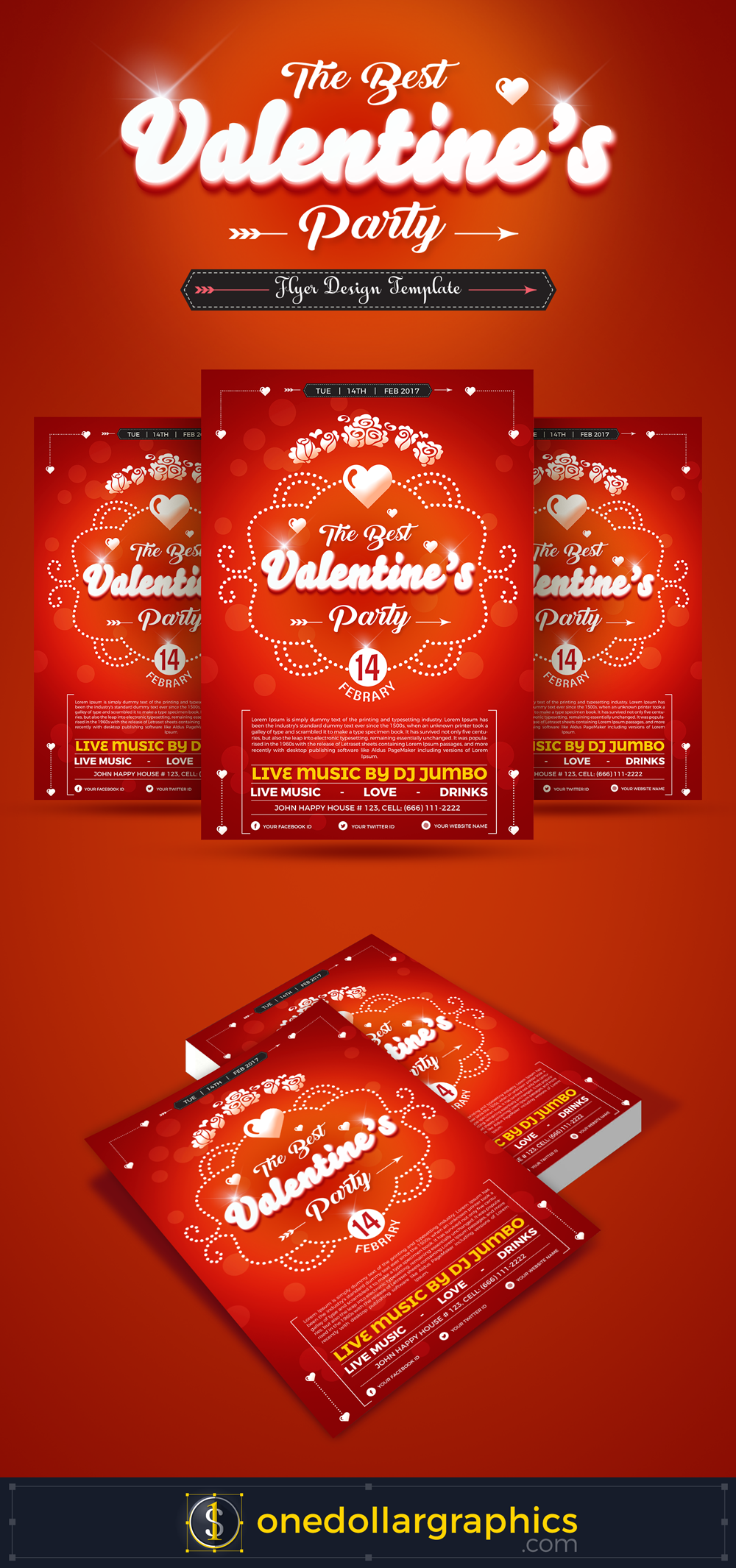 First Version: (Flyer PSD)
For Single Project only
Second Version: (Flyer PSD)
For 5 – 10 Projects
Third Version: (Flyer PSD)
Unlimited Projects
Specifications:
Party Flyer Template Size: A4
File Type: Psd
Software Version: Photoshop CS6
Resolution: 300 dpi
File Size: 11.2 Mb
File Format: 7-Zip