For any company, big or small, promotional ads in the form of print and digital are extremely important. Marketing, through flyers if done right is an excellent way of communicating with existing as well as the potential customers. Right marketing through flyers means the flyer have to be designed in such a manner that a reader is forced to read it.
As we all know that a lot of people are associated with the fashion industry and this industry, well, has become a go-to option for almost everyone. But a flyer has to be capable enough to grab attention.
If your flyer design has these things on it then know that you are on the right track. And if it doesn't – then you can use these points as tips. Keep reading to create awesome fashion flyer designs.
Copy
Too wordy a flyer or an ad is boring. Ask yourself if you would read your own designed flyer that has paragraphs written on it or you would read a flyer that has to the point information regarding a fashion brand.
Effectiveness
A flyer becomes effective and intriguing mainly because of its art work. You can easily make your flyer more effective by incorporating vectors, design elements, high resolution pictures etc.
Printing Quality
You know, you make your customers by showing them the quality of products you have and services you offer. Your marketing material should show the class and quality too.
Copy
Don't be vague. Try to connect with your potential customers. Make the most out of the space a flyer has to offer. And always say the maximum by using minimum number of words.
Visual identity
Make your fashion brand by stand out by creating a relevant visible identity. A clothing line's flyer design must show clothes more and the models / mannequins can be the second priority. Similarly, a show brand should be showing shoes and so on.
These are some of the points that should be kept in mind to create some best flyer designs. We hope you will follow the tips for your marketing purposes.
Today we are sharing fashion flyer templates for your fashion brand or product line.
Stylo Fashion Flyer Design Templates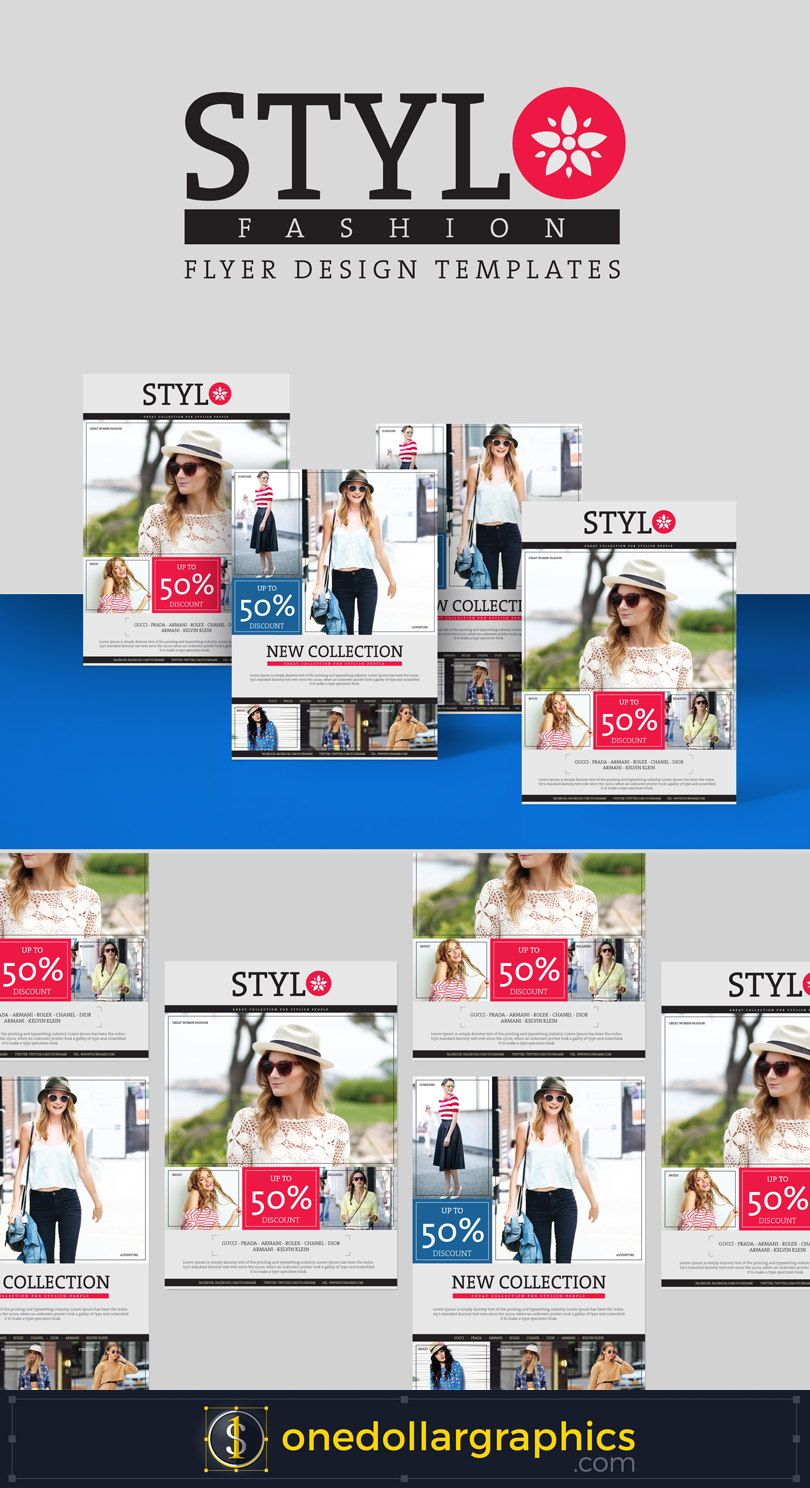 First Version: (Ai File)
For Single Project only
Second Version: (Ai File)
Upto 5 Projects
Third Version: (Ai File)
Unlimited Projects
Specifications:
Flyer Template Size: A4
File Type: Ai
Software Version: Illustrator CS6
Resolution: 300 dpi
File Size: 14 Mb
File Format: WinRar