Medical marketing is serious business as everyone who happens to be un-well needs attention as well as assurance that they or their loved ones will recover through proper treatments and medication etc.
We would like to tell you how this tri-fold medical brochure design is extremely impressive and can be edited and used for describing a medicine or diving detailed information about a medical service or doctors.
The design of this medical brochure is created by using three colors; white, blue, green. White color denotes safety and positivity, blue color is for confidence and green color denotes life. These colors make a healthy combination which is relevant to medical marketing.
Depending on your needs, you can use pictures of doctors, medicines and patients (if they allow you to) for a better look and feel of the medical brochure. And we will also suggest you to avoid showing graphic images.
The front should be welcoming and not scary. You can write a good positive quote about health on the front too.
Utilize the space of the tri-fold brochure to mention the details of the medicine / doctor, the brochure is in the process of design for.
One side of the tri-fold can be used to mention clinic, hospital timings or the usage of a medicine etc.
Icons and design elements are a must when it comes to marketing. Make use of these elements but don't overdo it.
Being authentic is what matters the most because a lot of people will be trusting in the medical center, doctor or a medicine by looking at the brochure. Make sure that you have enough information to build a relationship of trust. For that, you can edit the graph according to your requirement.
Don't forget to mention the contact details on the back side. And mention the details clearly in a subtle way.
You can also mention the benefits or advantages of a physician or medical drugs in the form of bullets.
We are sure that these points are enough to convince you that you can create effective medical marketing brochures. Feel free to edit the template on various formats like Ai, EPS, CDR, PDF, INDD and IDML.
Tri-Fold Medical Brochure Template Design In Ai, EPS, CDR, PDF, INDD & IDML Formats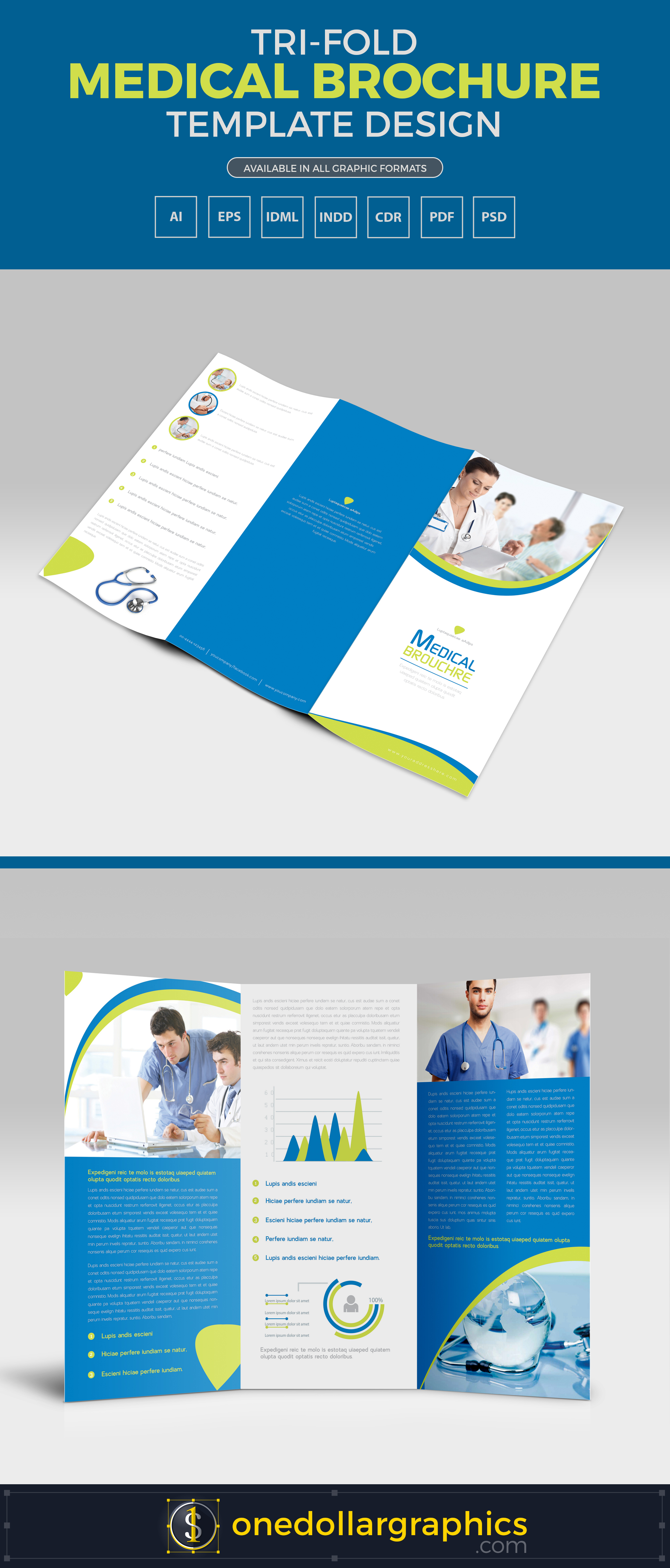 First Version: (Tri-Fold Brochure Design Template)
(All Vector Formats Ai, EPS, PDF, CDR, INDD & IDML File)
For Single Project only
Second Version: (Tri-Fold Brochure Design Template)
(All Vector Formats Ai, EPS, PDF, CDR, INDD & IDML File)
For 5 – 10 Projects
Third Version: (Tri-Fold Brochure Design Template)
(All Vector Formats Ai, EPS, PDF, CDR, INDD & IDML File)
Unlimited Projects
Specifications:
Brochure Tri-Fold Template Size: A4
File Type: Ai, PSD, Eps, Pdf, CDR, Indd, Idml
Software Version: Illustrator CS6, Photoshop CS6, InDesign CS6, CorelDraw 11
Color Mode: CMYK
Resolution: 300 dpi
File Size: 9.4 Mb
File Format: WinRar