We do not think of a thing as important unless we really need it to go with some of our projects or work assignments. This can happen to anyone anytime and to be honest, it happens to the graphic designers most of the time. It is like some graphic designer is assigned a task of designing a junior school coloring competition banners – he may need a set of cute vegetables vectors but he finds out that he doesn't have enough design material to use.
This is the time when being proactive saves a lot of time and help the graphic designer complete his project in time. On a side note; you can purchase and download our very amazing vectors from our website to keep the design process smooth.
So let's come to the topic, Dollar, Pile of Cash, Golden Coin Illustrations & Currency Note vectors can be used in various design projects. Even if you do not know how to use any vector based program you can surely utilize these already designed vectors wherever these are required for your designs.
Money is very important for almost everything and that means you will find these illustrations extremely helpful for yourself. You can use these vectors on the designs of a restaurant flyer or bakery menu book, for text books like Mathematics, English etc. These vectors can also be used on the marketing materials of banks, insurance companies and offices as well. Other than the uses which are mentioned before, these cash and coins vectors can also be used for animated videos and cartoons etc.
These dollar vector graphics, cash vector notes, flat design coin vector, currency note vector files are fully editable and easy to use. Get your hands on the vectors by purchasing these directly from our website and continue making amazing designs.
Dollar, Pile of Cash, Golden Coin Illustrations & Currency Note in Vector Format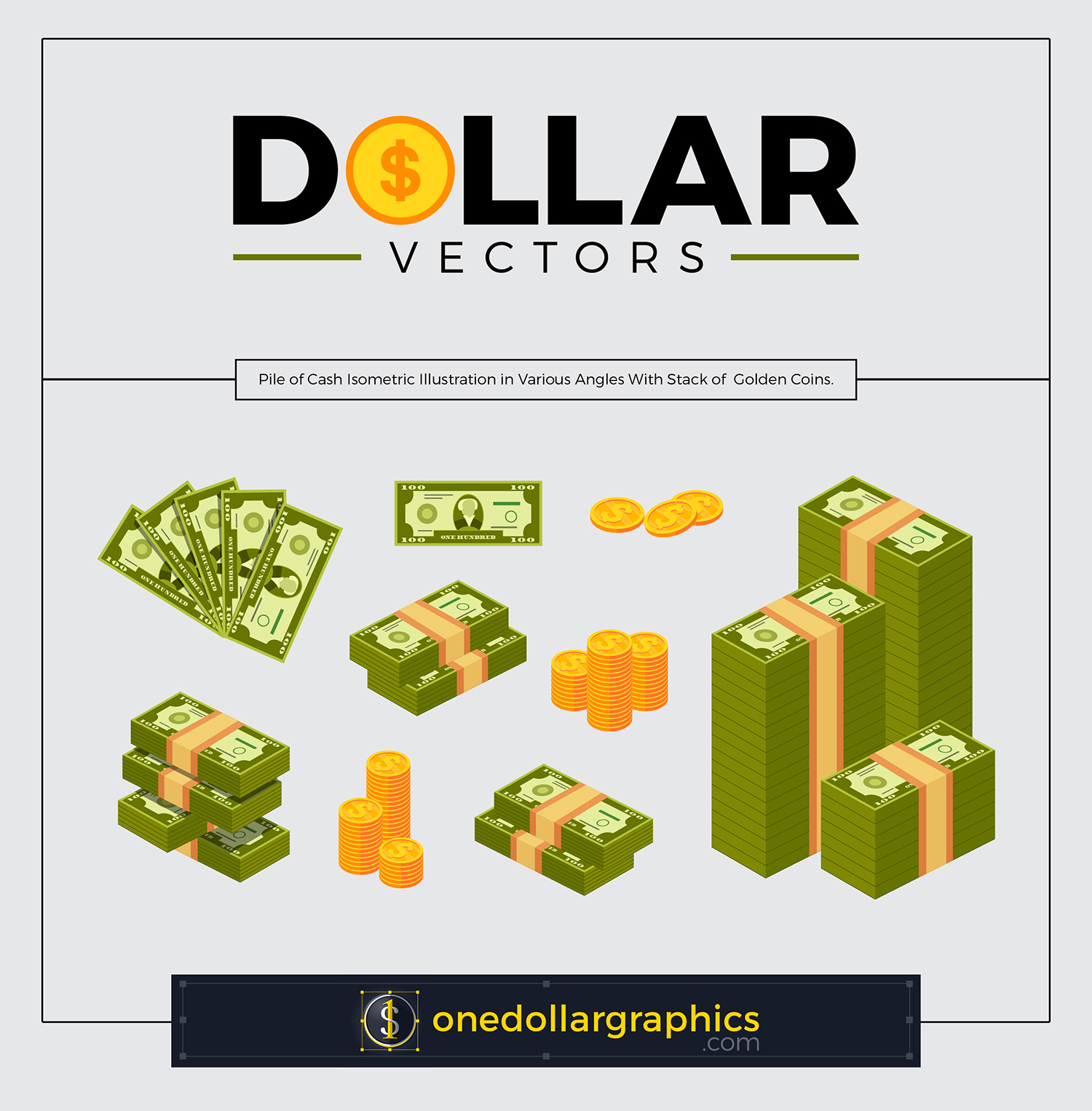 First Version: (Ai File)
For Single Project only
Second Version: (Ai File)
Upto 5 Projects
Third Version: (Ai File)
Unlimited Projects
Specifications:
File Type: Ai
Software Version: Illustrator CS6
Editable: Yes
Vector: Yes
Resolution: 300 dpi
File Size: 714 Kb
File Format: WinRar