A pet, a car, a house and sometimes a camera are some of the things humans are deeply attached with. What makes this 'relationship' beautiful is the amount of energy and time which are spent to buy a thing or an animal.
Since we are going to talk about how to create beautiful and intriguing real estate flyer designs, let's agree on the fact that an advertisement in print or digital is enough to convince someone to buy a thing form a seller or to make the consumer abandon a brand forever. And we know, absolutely no one wants that to happen!
So, a property should be marketed with honesty and zero vagueness. By honesty, we mean a premium real estate flyer design should mention every little and big thing that makes a property worth investing in. Design a flyer so good that the customers would love to buy a house.
When it comes to property and real estate marketing, marketers have to be as clear as crystal. And never forget that in real estate marketing, appearance is (almost) everything. Allow us to share some tips for creating stunning 'House for Sale' and real estate flyer designs.
Use actual pictures of the property.
Show why a customer should invest their money in a particular property.
Mention everything that makes the surroundings of the property peaceful and exciting.
Don't be shy in showing off the building materials.
You can also mention if the seller would be accompanying the buyers for legal documentation procedures.
Use content which will build a relationship of trust with the potential customers as houses are not bought every day.
Pricing and 'For Sale' copy should be clearly mentioned and the placing of images and copy must be done properly.
Sellers' contact information should also be clearly written.
Marketing flyers work great if there are sections for different information – in this way, people will instantly know if the specifications of the property suit them or not. By following these tips, we hope that you can carry out successful property campaigns.
Today we are sharing premium real estate property flyer template design for house owners as well as real estate companies so they can easily put their information and real pictures to attract more people and sell the property swiftly.
Premium Real Estate (House For Sale) Flyer Design Template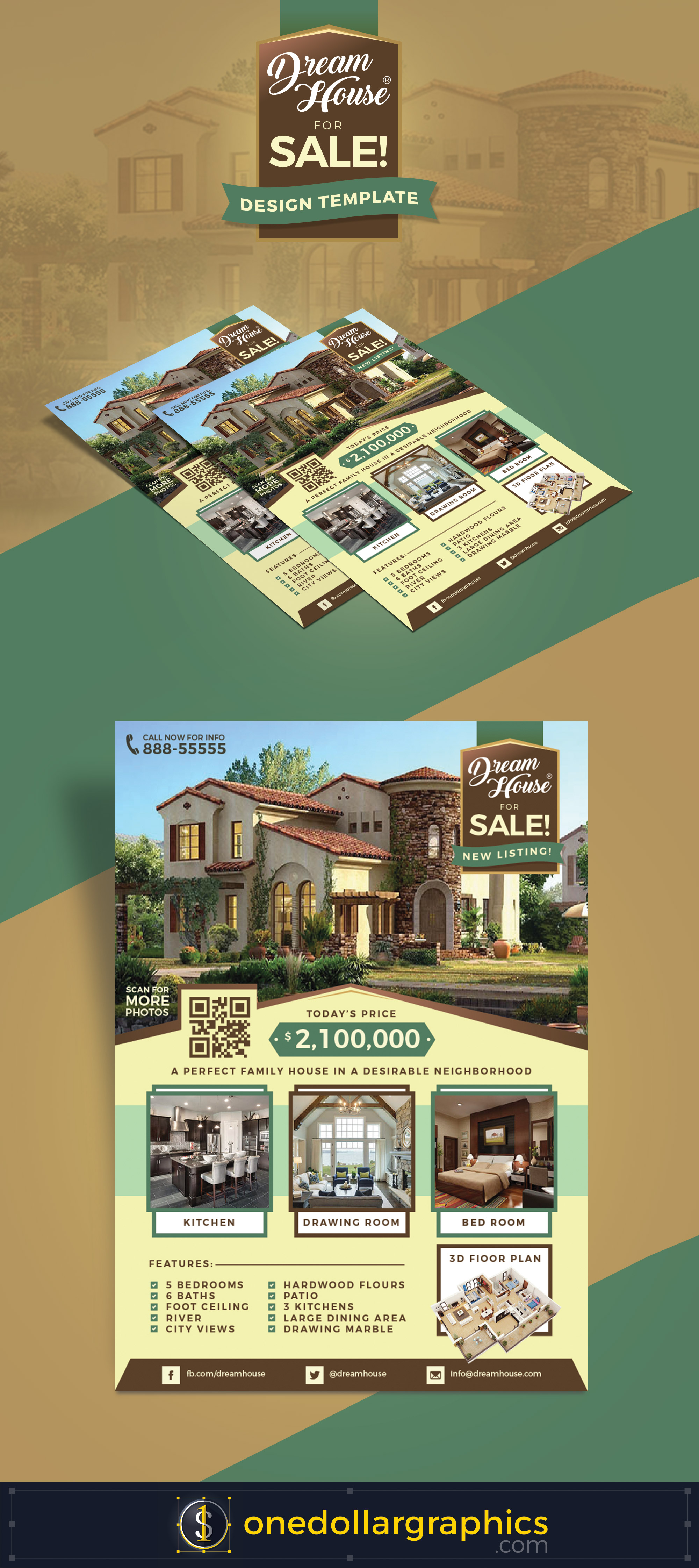 First Version: (Property Flyer Template Ai File)
For Single Project only
Second Version: (Property Flyer Template Ai File)
Up to 5 Projects
Third Version: (Property Flyer Template Ai File)
Unlimited Projects
Specifications:
Flyer Size: A4
File Type: Ai
Software Version: Illustrator CS6
Resolution: 300 dpi
File Size: 3.5 Mb
File Format: 7-Zip
Extract only With: 7-Zip
Download free > Flyer Mockups