Interior designers can make sure that a number of people know about their unique and creative ideas by marketing themselves properly. And even if people don't hire an interior designer then at least they would refer them to their friends and relatives. But how is that doable? How can an interior designer make someone aware about themselves? Well, this is why we have different marketing materials to promote things.
We will share some easy design tips with you. And we are sure that by following these techniques, you will be able to create effective home interior design flyers in no time. Continue reading to know more.
A beautiful home interior flyer design can only serve the purpose well when it has intriguing and relevant pictures.
Flaunt your previous projects by making a very decent and clear collage.
In addition to having great pictures, you as a designer must have amazing and emotional content to connect with your potential clients.
Know that a house is very dear to its owners so you have to build a relationship of trust and loyalty with the people as well as a building in general.
Keep in mind another very important thing that the layout of the flyer, its colors and design will represent an interior designer's skills as well.
Pay attention to the details of the flyer.
You might want to work on a flyer that is divided in sections and each section represents either a service or a project.
You can also add a review of a happy client on the flyer.
Use banners and colors which draw the attention instantly.
In context of fonts, we would like to suggest that you should go for stylistic typography.
The overall look of your flyer must be royal as well as 'reader friendly'.
In the flyer design that we have provided, you will notice that things are divided into sections which are named to connect with the people. Not only the sections have different headings but these are highlighted in a manner which is easily readable.
Elegant Home Interior Design Template Available in Three Colors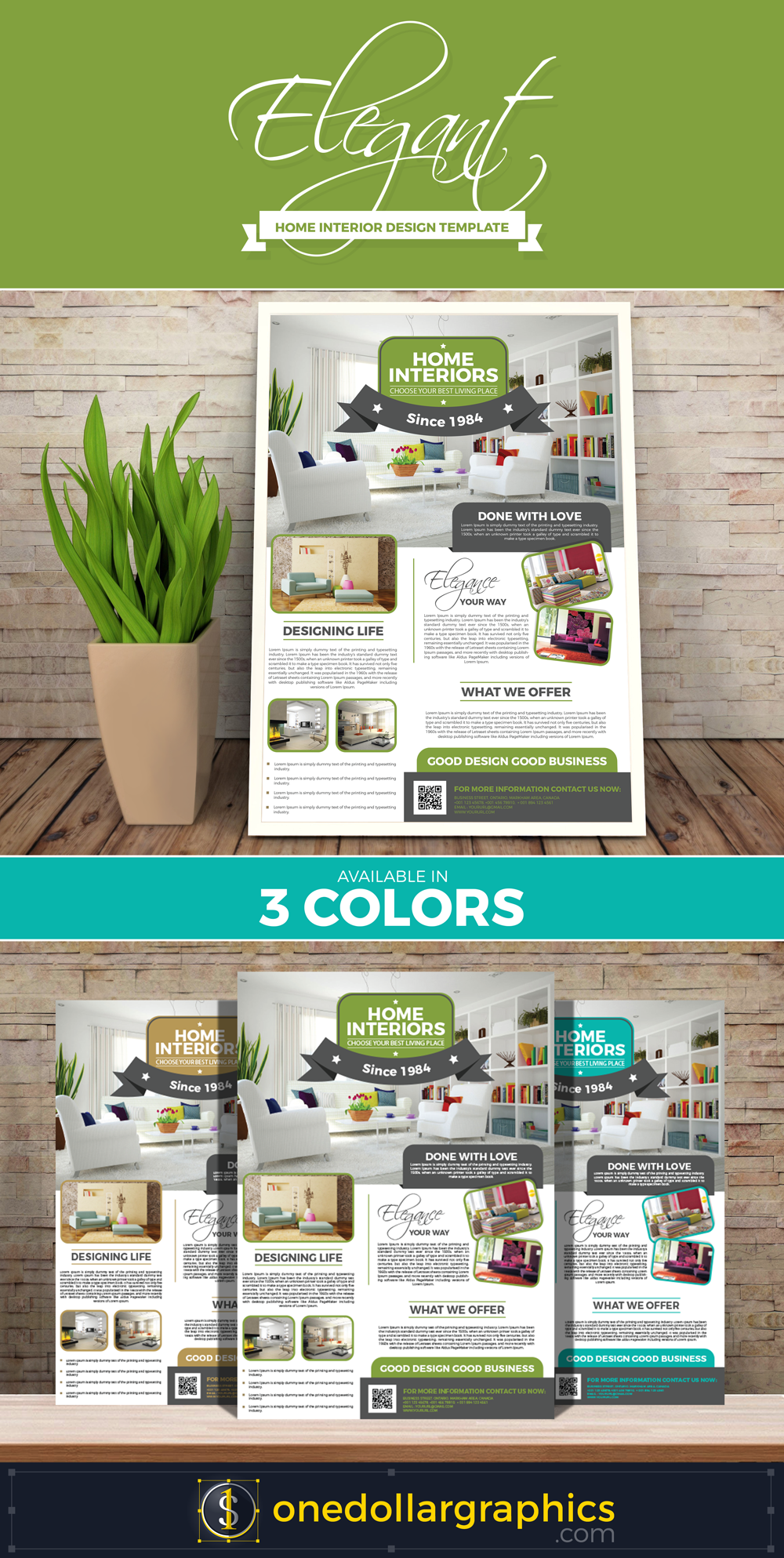 First Version: (Flyer Templates Ai File With Color Options)
For Single Project only
Second Version: (Flyer templates Ai File with color options)
Up to 5 Projects
Third Version: (Flyer Templates Ai File With Color Options)
Unlimited Projects
Specifications:
Flyer Template Size: A4
File Type: Ai
Software Version: Illustrator CS6
Resolution: 300 dpi
File Size: 19.6 Mb
File Format: WinRar