Trifold brochures give the marketers a lot of marketing opportunities to showcase a company or a business properly. This type of brochures lets a company to spread awareness about the brand, its history, achievements and partners (if there are any).
We will share some design guidelines with you to follow so that you are able to create amazing A4 corporate brochures for your clients in different formats like Ai, EPS, CDR, INDD and IDML. Continue reading to get inspired:
Since you have a lot of space on an A4 brochure, make sure that you have enough content to fill it and no white / negative space is visible.
Get hold of at least four to six high resolution pictures which show the building, culture, teams and facilities provided to the employees.
Create a user friendly layout. It should be attractive enough to convince people to go through the whole brochure design without getting bored.
In addition to the above mentioned pictures, you should also use the pictures of the founders and the CEO of that company as well.
Divide the template in different sections and use these sections by naming them like; 'About Us', 'Message from the CEO', 'Our Team', 'Our Culture' etc.
Create high quality logos.
The logo of the organization should be placed from where it is visible enough.
Select only those colors which define the brand persona.
Corporate offices are known for being serious and sophisticated unlike marketing agencies. Keep in mind this point while designing corporate marketing ads.
Carefully choose how the content should go on a trifold brochure Design.
Clearly design the Contact Us section. And do not forget to add maximum information in this section.
These are some of the tips which you should follow to create a trifold A4 corporate brochure. You can buy this design to implement changes according to your requirement. It is available in 7 graphic file formats so you can choose any software to open the file.
A4 Corporate Tri-Fold Brochure Template Design in Ai, EPS, CDR, PDF, INDD & IDML Formats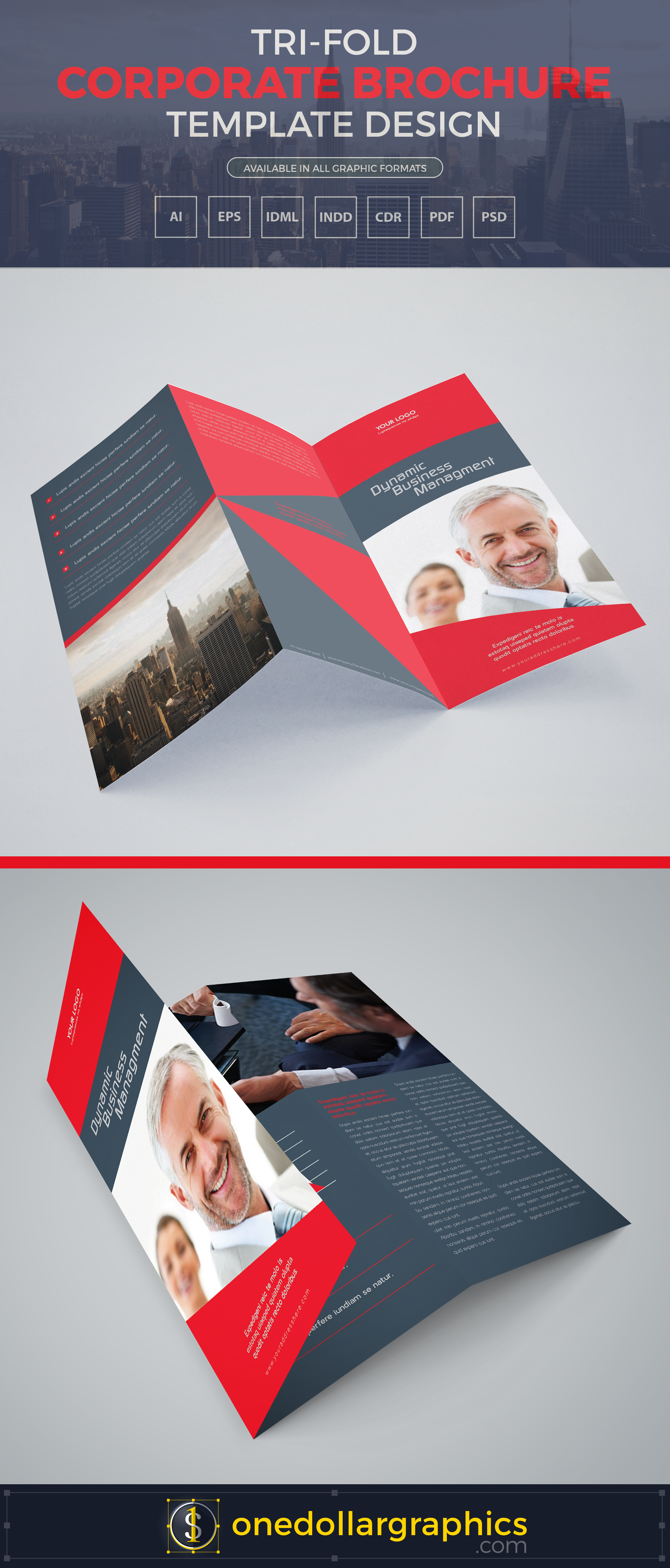 First Version: (Ai, EPS, CDR,PDF, INDD & IDML File)
For Single Project only
Second Version: (Ai, EPS, CDR,PDF, INDD & IDML File)
For 5 – 10 Projects
Third Version: (Ai, EPS, CDR,PDF, INDD & IDML File)
Unlimited Projects
Specifications:
Brochure Template Size: A4
File Type: Ai, Psd, Eps, Pdf, Cdr, Indd, Idml
Software Version: Illustrator CS6, Photoshop CS6, InDesign CS6, CorelDraw 11
Color Mode: CMYK
Resolution: 300 dpi
File Size: 13.9 Mb
File Format: WinRar