Today we are sharing the most biggest social media icons collection and our first one on onedollargraphics. All these icons are designed on illustrator and available in vector ai, eps, svg, coreldraw cdr and png format. This social icon set is the world's largest collection that you will never find it anywhere on any website. All icons are named properly so you can easily find them and use them in your web design projects or even in you print projects. All colors are bright and corporate and the best part is that you can get future update for free once you purchased the unlimited version of the file.
We are going to update this social icon set monthly and hopefully we will add more and more social networks whenever we will find. You can also ask us for any other social icon that we have missed. This social icon set is extremely useful if you are going to develop any social icons plugin. Now you can download 270 icons for $9 (upto 10 projects) and 300 icons for only $15.00 for unlimited usage.
Lifetime updates are only available for unlimited license users ($15.00).
Do check out our other graphics.
World's Largest Collection of Social Media Icons in Vector AI & EPS

Social Icons Update: 1.0 (300 Icons)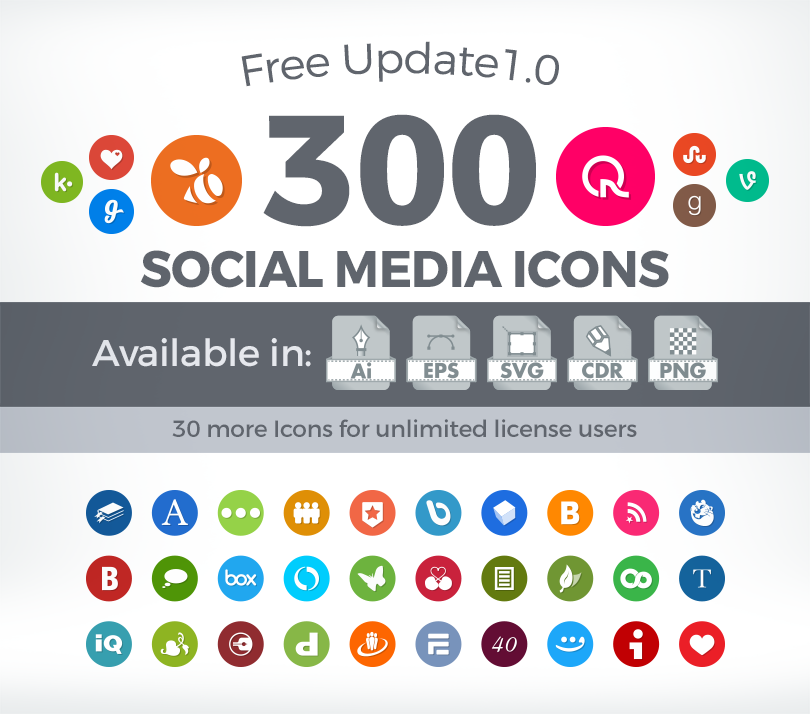 Following icons are included in this social icons set:
1x Icon
500px Icon
51 Icon
8tracks Icon
9gag Icon
me Icon
Adfly Icon
Aim App Icon
Aim Icon
Amazon Icon
Ameba Icon
Android Icon
Answers Icon
Aol Icon
Apple App Store Icon
Apple Icon
Arto Icon
Ask Icon
Fm Icon
Aws Icon
Badoo Icon
Baidu Icon
Balatrinv Icon
Bambuser Icon
Bandsintown Icon
Banjo Icon
Basecamp Icon
Beats Music Icon
Bebo Icon
Behance Icon
Bing Icon
Bitly, Blinklist Icon
Blip Icon
Blogger Icon
Bloglovin Icon
Blogmark Icon
Break Icon
Buddypress Icon
Buffer Icon
Buzzfeed Icon
Buzznet Icon
Carbonmade Icon
Cargo Collection Icon
Cheezburger Icon
Chiq Icon
City Search Icon
Classmates Icon
Coroflot Icon
Creative Market Icon
Crunchyroll Icon
Dailymotion Icon
Delicious Icon
Designfloat Icon
Deviantart Icon
Digg Icon
Diigo Icon
Disqus Icon
Douban Icon
Dribbble Icon
Dropbox Icon
Dropr Icon
Dzone Icon
Ebay Icon
Edcast Icon
Edmodo Icon
Elance Icon
Email Icon
Enveto Icon
Etsy Icon
Eventbright Icon
Eventbrite Icon
Eventful Icon
Evernote Icon
Facebook Icon
Facetime Icon
Fahlo Icon
Fancy Icon
Fc2 Icon
Feedburner Icon
Flickr Icon
Flipagram Icon
Flipboard Icon
Fotolog Icon
Foursquare Icon
Frendster Icon
Friendfeed Icon
Frontback
Gamespot Icon
Genius Icon
Github Icon
Glide Icon
Goodreads Icon
Google Drive Icon
Google Mail Icon
Google Play Store Icon
Google Plus Icon
Gravatar Icon
Grooveshark Icon
Hacker News Icon
Hi5 Icon Icon
Hitbox Icon
Houzz Icon
HTML3 Icon
HTML5 Icon
Hulu Icon
ICQ Icon
IGN Icon
iHeart Icon
iHeartRadio Icon
IMDB Icon
Imgur Icon
IMVU Icon
Indiegogo Icon
Instagram Icon
Instapaper Icon
iTunes Icon
Joomla Icon
Kaixin Icon
Kakaotalk Icon
Kanvas, Keek Icon
Kickstarter Icon
Kik Icon
Klout Icon
Kongregate Icon
Lastfm Icon
Liestream Icon
Line Icon
Linkedin Icon
Livejournal Icon
Mashable Icon
Mediafire Icon
Medium Icon
Meerkat Icon
Meetme Icon
Meetup Icon
Memori Ru Icon
Meneame Icon
Menuism Icon
Metacafe Icon
Mindie Icon
Mixi Icon
Muzy Icon
Myspace Icon
Netflix Icon
Netvibes Icon
Netvouz Icon
Newsvine Icon
Ning Icon
Odnoklassniki Icon
OkHello Icon
ooVoo Icon
Oyyla Icon
Pandora Icon
Path Icon
Paypal Icon
Periscope Icon
Pheed Icon
Photobucket Icon
PictureTrail Icon
Pinterest Icon
Plaxo Icon
PlayStation Icon
Plurk Icon
Pocket Icon
Polyvore Icon
Qik Icon
QQ Icon
QuizUp Icon
Quora Icon
Qzone Icon
Rakuten Icon
Rdio Icon
Redbubble Icon
Reddit Icon
Renren Icon
RenRen Icon
ReverbNation Icon
Rhapsody Icon
ROBLOX Icon
RSS Icon
Rutube Icon
Scribd Icon
Segnalo Icon
Share Icon
Shazam Icon
Shots Icon
Shutterstock Icon
Sina Icon
Skype Icon
Skype Qik Icon
Skyrock Icon
Slashdot Icon
Slideshare Icon
SmugMug Icon
Snapchat Icon
Society Icon
Sonico Icon
Soundcloud Icon
Specificfeeds Icon
Spotify Icon
Spring Me Icon
Squarespace Icon
Stack Overflow Icon
Startaid Icon
Steam Icon
Steller Icon
Storie Icon
Storveny Icon
StumbleUpon Icon
Swarm Icon
Symbaloo Icon
Tagged Icon
Tango Icon
Taobao Icon
Tapatalk Icon
Taringa Icon
Technorati Icon
TED Icon
The Hunt Icon
Thisnext Icon
Tidal Icon
Topix Icon
Tout Icon
Travbuddy Icon
TSU Icon
Tudou Icon
Tuenti Icon
Tumblr Icon
Twitch Icon
Twitter Icon
Twoo Icon
Twylah Icon
Typepad Icon
Uber Icon
Urbanspoon Icon
Ustream Icon
Veoh Icon
Vessel Icon
Vevo Icon
Viber Icon
Viddlr Icon
Vimeo Icon
Vine Icon
VK Icon
Wattpad Icon
Website Icon
WeChat Icon
Weheartit Icon
Weibo Icon
Whatsapp Icon
Whattpad Icon
Whisper Icon
Windows Store Icon
Wix Icon
WordPress Icon
WorldStarHipHop Icon
Wykop Icon
Xanga Icon
Xbox Icon
Xing Icon
Yahoo Icon
Yammer Icon
Yelp Icon
Yonder Icon
Youku Icon
YouNow Icon
YouTube Icon
Yummly Icon
Zazzle Icon
Zooppa Icon
Update 1.0 Includes following Social Icons:
Linkmarker.ru Icon
AmenMe Icon
Aol Lifesteam Icon
Apsense Icon
Atavi Icon
Beat100 Icon
Balatrin Icon
Bland.is Icon
Blogkeen Icon
BobriDobr.Ru Icon
Bonzobox Icon
Bookmerken.de Icon
Box Icon
Camyoo Icon
Care2 Icon
Thecherryshare Icon
Citeulike Icon
Cleanprint Icon
Cloob Icon
Technerd Icon
Cosmiq Icon
CSSBased Icon
Diary.ru Icon
Diggita Icon
Draugiem.lv Icon
Efactor Icon
Fabulously40 Icon
Facenama Icon
FaiInformazione Icon
Fashionlista Icon
First Version: (100 PNG Icons)
1 Project only for $1.00
Second Version: (270 PNG Icons+ All Vector Files)
5 – 10 Projects for $9.00
Third Version: 270 PNG Icons+ 30 More PNG Icons (Update 1.0) All Vector Icons + Free Lifetime updates
Unlimited Projects for life time for $15.00
Specification
PNG Dimension: 512, 256, 128, 64, 32 px
File Type: Ai, CDR, PNG, EPS, SVG
Software Version: Illustrator CS6, Corel Draw 11
File Size: 3.5 Mb / 14 Mb
Zip File Format: 7-Zip