A business becomes a great business when people praise the services, recognize the brand and want to become a part of the very business. Normally, a business gets promoted when it is marketed nicely along with the capabilities and skills of its hard working team members.
You can also promote a business like a boss if you know how to market the products and services efficiently in an effective manner. One wrong marketing move can make a business go down forever and one smart marketing move keeps it stay ahead in the game. You need to be witty and creative enough to grab the attention of people.
Allow us to share some tips with you which will help you in creating stunning premium business flyer design templates. But first, collect as much relevant and necessary data as you can to start the design process.
Create a sophisticated layout keeping in mind the brand persona.
Select a combination of colors from the company's logo for the whole design.
We would also suggest you to divide the flyer into various sections.
It won't hurt anyone if the brand or company's achievements and projects are flaunted nicely.
Give a virtual tour of the company to the potential clients by using some high resolution pictures.
You can also use the flyer to make announcements for upcoming projects, grand openings, sales and launch events.
There has to have a CTA section too on the flyer that mentions the contact details of the company clearly.
You can also create a multipurpose premium business flyer. For example; you can use the same space of a flyer for job hiring and upcoming projects.
Make use of relevant icons and vectors as well where these are needed.
Carefully place the content, pictures, vectors, logos, icons etc.
By looking at the picture, you will notice a main image and a combination of colors which are making the whole flyer design stand out. The sections are highlighted by using to the point content and relevant. Not only that, placing a QR code can also be helpful for those who would want to get in touch with you.
Premium Business Flyer Design Template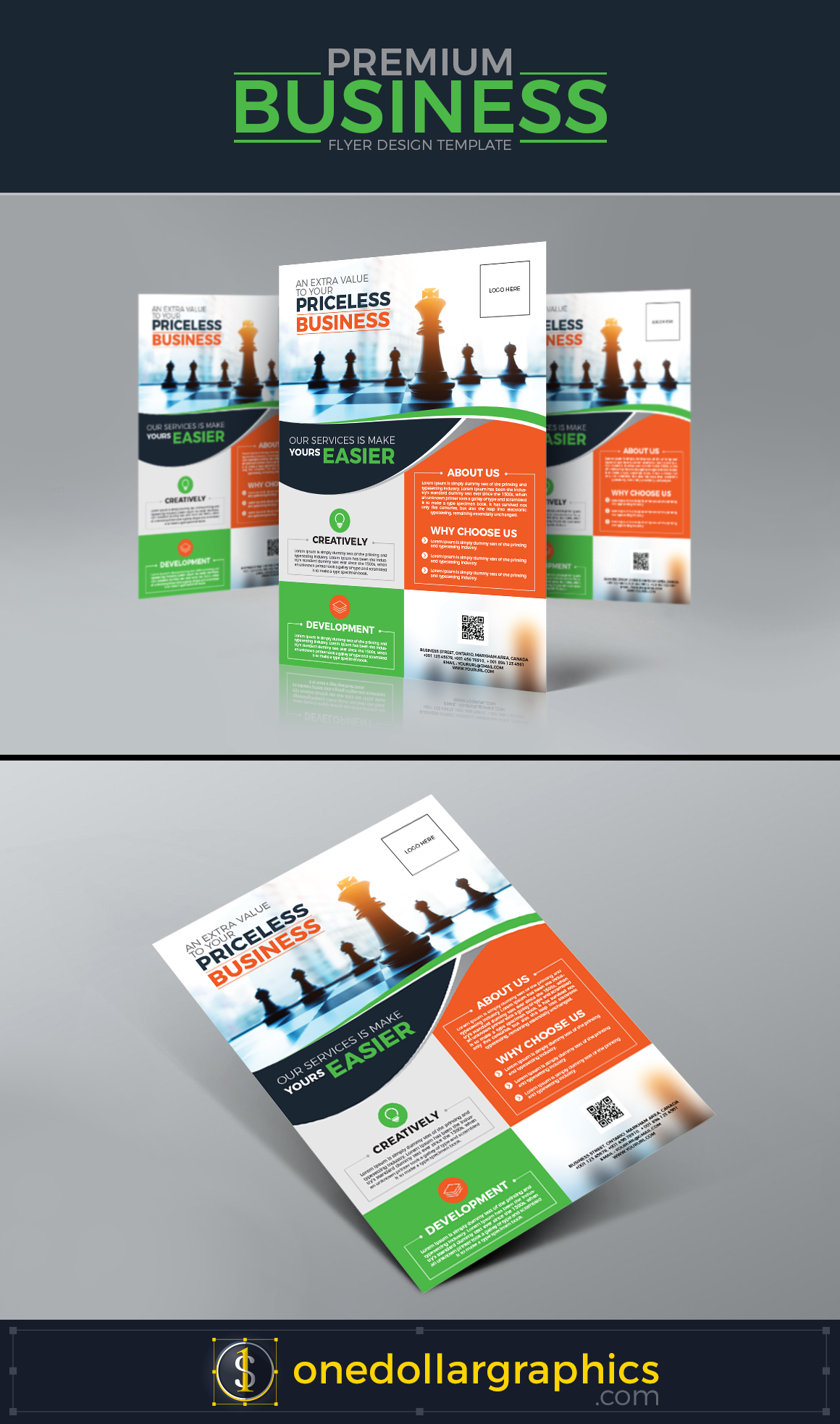 First Version: ( Ai File)
For Single Project only
Second Version: (Ai File)
5-10 Projects
Third Version: (Ai File)
Unlimited Projects
Specifications:
Flyer Template Size: A4
File Type: Ai
Software Version: Illustrator CS6
Resolution: 300 dpi
File Size: 5.5 Mb
File Format: WinRar