In this world of technology and innovation, all of us have got busy schedules which not only make us exhausted but we are also not able to pay attention to our diet. Eating readymade food seems to be an easy process but with the passage of time what readymade does to our bodies becomes a problem.
Our fast paced routines need to be paid attention to for a healthy lifestyle. And a healthy lifestyle can be chosen if there are a lot of people who are able to help their friends and relatives in choosing and eating right food for themselves.
This sort of education can be given to people by talking about the benefits of consuming vegetables and how these vegetables are better than fast foods. So if you are a graphic designer and are working for a food blogger or a nutritionist – we urge you to become a source of spreading awareness. Create the marketing materials by making use of these vibrant vegetable icons for your design projects.
Other than that, vegetable vector icons can also be used for more than one purpose like;
For textbooks and cue cards
For an eatery's menu book
For grocery shops signage and other marketing materials
For food or cooking websites and blogs
For games
For creating stickers and toys
For printing on aprons, gloves, kitchen towels
And there are many other uses of vegetable vector icons which is why our very talented graphic designers have created a complete set of 100 of these icons in Photoshop Illustrator format which can be widely used.
Not only are there many uses of these beautifully created vector icons but these icons can be purchased without a hassle. We encourage you to purchase and download these vector icons for your next project and we are sure that these icons are going to enhance the beauty of your designs. So what are you waiting for?!
No wonder we must look forward to the new prospects and to inculcate them in our projects, we should play with vibrancy, colors, vitality and vigor to end up having a good showable piece of art that is different and yet sophisticated to hold its standpoint.
A good stance is showed and depicted through good design so make sure you, being designers fulfill the design duty that is being given on your shoulders. Here check these 100 vegetable vector icons that you can use in your projects. These are just super amazing, colorful and are totally meaningful.  Stay tuned for some interesting Premium Graphics tomorrow.
100 Vegetable Vector Icons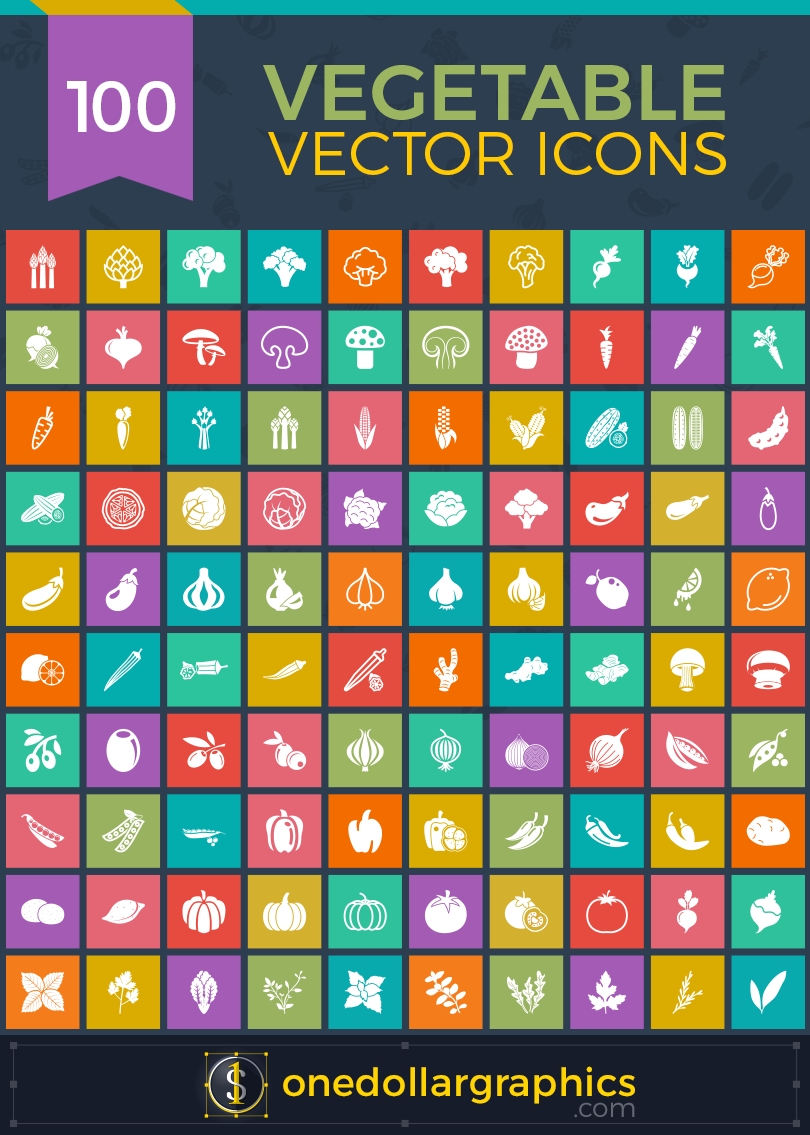 Following Icons Are Included In This Vegetable Icon Set:
Artichoke Icon
Broccoli Icon
Beet Icon
Boletus Icon
Carrot Icon
Celery Icon
Asparagus Icon
Corn Icon
Cucumber Icon
Cabbage Icon
Cauliflower Icon
Eggplant Icon
Garlic Icon
Lemon Icon
Lady Finger Icon
Ginger Icon
Mushroom Icon
Olive Icon
Onion Icon
Pea Icon
Pepper Icon
Chili Icon
Potato Icon
Sweet Potato Icon
Pumpkin Icon
Tomato Icon
Radish Icon
Turnip Icon
Mint Icon
Cilantro Icon
Lettuce Icon
Thyme Icon
Basil Icon
Oregano Icon
Arugula Icon
Parsley Icon
Rosemary Icon
Sage Icon
First Version: 100 Vegetable Vector Icons (Ai File)
1 Project only for $1.00
Second Version: 100 Vegetable Vector Icons (Ai File)
5 – 10 Projects for $3.00
Third Version: 100 Vegetable Vector Icons (Ai File)
Unlimited Projects for life time for $5.00
Specification
File Type: Ai
Software Version: Illustrator CS6
File Size: 1.10 Mb
File Format: Zip
Color Mode: RGB