You cannot work properly without having to rest yourself on an easy chair and a comfortable desk to play miracles on. Even in the house when you like a time of relaxation—a cozy sofa and a softer couch is needed to feel at home. Furniture is designed in such a way that gives an aesthetic pleasure as well as physical comfort. There are many only blogs and websites that too offer furniture sales and other interior stuff.
For a design, other than the copy, the vectors and icons are those important design elements which attract the customers towards making a decision. This decision could be of buying different things from the store or to confirming to get a service from a company.
In context of furniture and interior design shops, whenever some serious buyer visits an online furniture or interior design store or goes through a social media page / account of the same business, it is the design and visuals which make the potential customers purchase an item or two. And to make that happen, marketers of furniture shops have to create such an amazing strategy to promote the business so that it becomes difficult for a person to simply ignore the furniture items.
To help your clients promote their businesses well, our amazingly talented graphic designers have created this set of pixel perfect furniture and interior vector icons which can be easily used for making different types of marketing materials like brochures, flyers, sales announcement cards, discount vouchers, catalogues, websites, social media accounts creative posts, outdoor banners, standees even signage, billboards and so much more.
This set of pixel perfect furniture and interior vector icons was created to go with the overall look of the design and the product. There is no doubt that if the design of the marketing material is creative and inviting enough, customers will definitely go and act in one way or the other to get in touch with a shopkeeper or a brand owner.
These pixel perfect icons are available in following file types:
Ai
PSD
PNG
EPS
SVG
These 100 pixel perfect vector icons can be easily purchased and downloaded from our website. So what are you waiting for? Purchase and download these icons and continue making awesome designs.
Do you need interior vector icons to put up on your interior website? Here I am giving away 100 pixel perfect furniture & interior Vector icons that you can use on your blogs/websites or even on your print projects. These are smarter, leaner, beautiful and stunning to make their existence noticeable. Have a look!
100 Pixel Perfect Furniture & Interior Vector Icons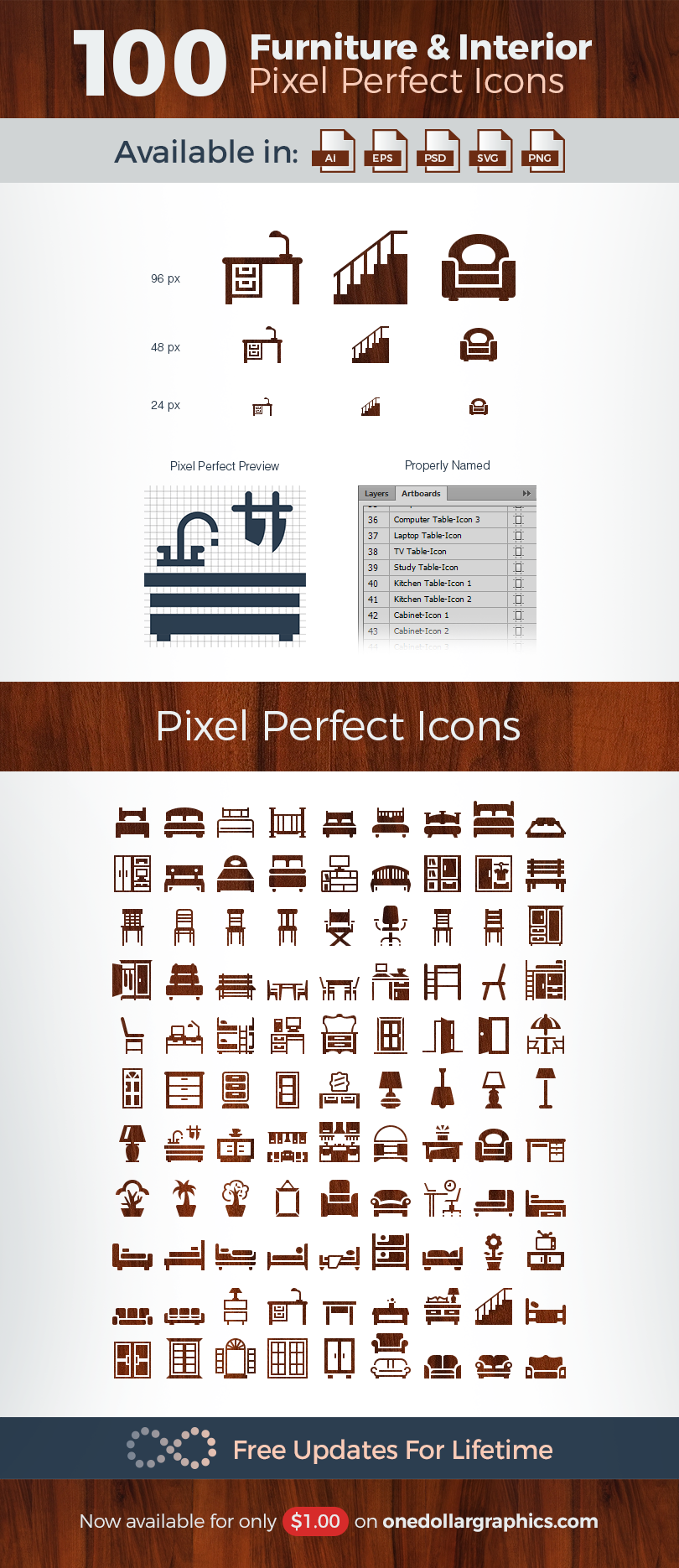 Following icons are included in this furniture icon set:
Chairs Icon
Computer chair Icon
Dinning Table Icon
Computer table Icon
Sofas Icon
Patient Bed Icon
Dinning chair Icon
Coffee Table Icon
Plants Icon
Lamps Icon
Dressing Table Icon
Side table Icon
Sofa table Icon
Double bed Icon
Single Bed Icon
Doors Icon
Balcony Icon
Kitchen Icon
Wardrobes Icon
Almarah Icon
Closet Icon
Tv Trolley Icon
Stools Icon
Chaise longue Icon
Fauteuil Icon
Fainting couch Icon
Davenport Icon
Loveseat Icon
Bunk bed Icon
Sleigh bed Icon
Daybed Icon
Sofa Bed Icon
Bathroom cabinet Icon
Hutch Icon
Cupboard Icon
Pie safe Icon
Garden bench Icon
First Version: (100 Pixel Perfect (24, 48, 96 Grid) PNG Icons + All Vector Files)
1 Project only for $1.00
Second Version: (100 Pixel Perfect (24, 48, 96 Grid) PNG Icons + All Vector Files)
5 – 10 Projects for $3.00
Third Version: 100 Pixel Perfect Android (24, 48, 96 Grid) PNG Icons + All Vector Files + Free Lifetime updates
Unlimited Projects for life time for $5.00
Specification
PNG Dimension Grid Icons: 24, 48, 96 Px
File Type: Ai, PSD, PNG, EPS, SVG
Software Version: Illustrator CS6
File Size: 2 Mb
Zip File Format: Zip
Color Mode: RGB