Music brochures can be used for various purposes for example like an announcement and invitation of a music concert, for launching a music store and company, for musical instruments training classes etc. A music brochure can also be designed to make announcements for upcoming albums and videos.
Continue reading to know how this design of an A4 music brochure can help you impress your clients who are singers and want you to create their marketing materials. Or music teachers who want to setup a music training academy for people.
The microphone on the front of this single fold brochure instantly makes it clear that it is a music brochure and you are in for something exciting. You can change the picture if you have to create a music training brochure by simply putting a guitar's or piano's pictures.
Brown color on the front is used to create a beautiful and warm look and feel so that interest can be evoked among fans or those who wish to learn how to play an instrument or start singing etc.
The top left corner is dedicated to the name / title of a band or company. And it can also be edited according to the requirements.
The inner side of the brochure has a lot of space and it can be edited and utilized for mentioning important details. We would suggest you to use this space by creating a schedule in case of music classes, fee structure and a short history of a band, concert details and of course some high resolution pictures of the singers and bands as well.
You can also make this design a little flashy by using design elements and vectors if needed.
Utilize the back side of the brochure by mentioning contact information and by sharing all the social media links so that the fans can get in touch or follow the pages.
We hope that this design will help you create extremely beautiful A4 music brochures templates, available formats are Ai, EPS, CDR, PDF, INDD & IDML.
A4 Music Bi-Fold Brochure Template Design in Ai, EPS, CDR, PDF, INDD & IDML Formats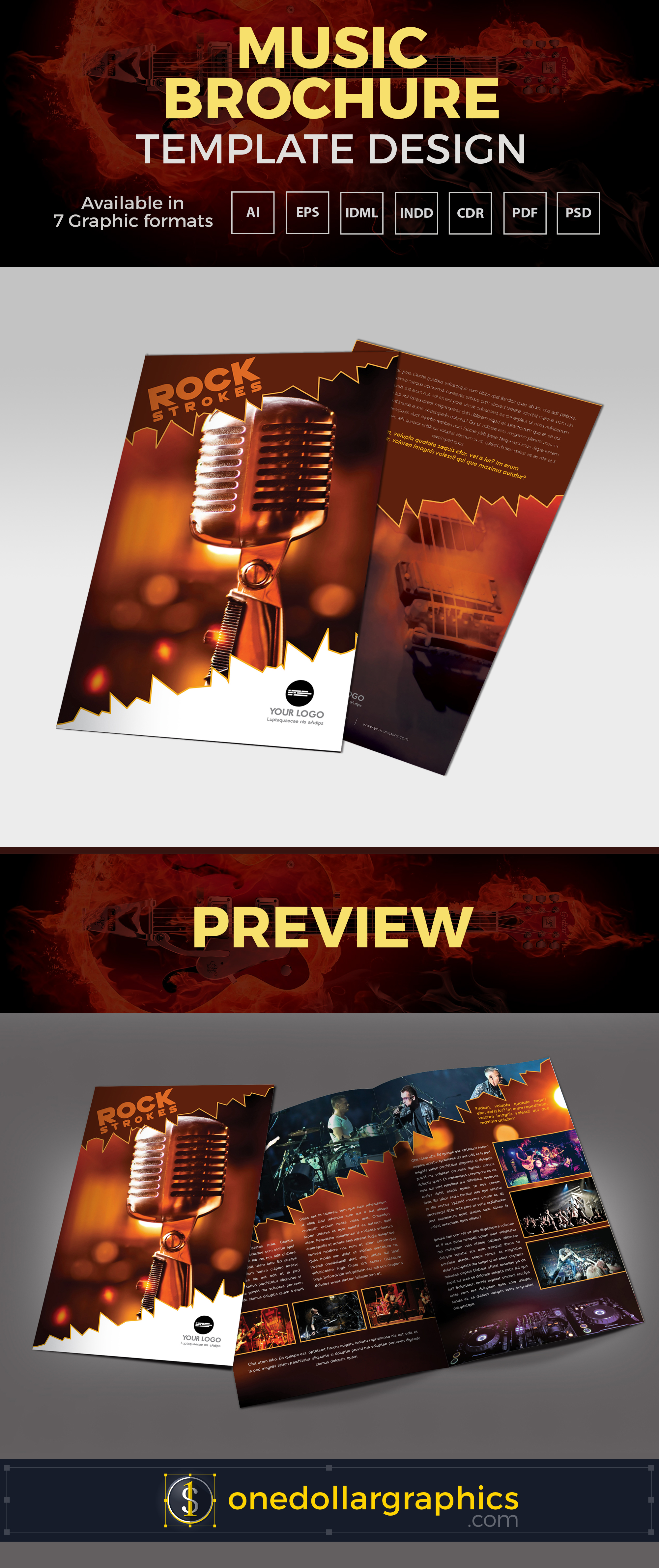 First Version: (Music Brochure Design formats: Ai, EPS, PDF, CDR, INDD & IDML File)
For Single Project only
Second Version: (Music Brochure Design Formats: Ai, EPS, PDF, CDR, INDD & IDML File)
For 5 – 10 Projects
Third Version: (Music Brochure Design Formats: Ai, EPS, PDF, CDR, INDD & IDML File)
Unlimited Projects
Specifications:
Brochure Template Size: A4
File Type: Ai, Psd, Eps, Pdf, Cdr, Indd, Idml
Software Version: Illustrator CS6, Photoshop CS6, InDesign CS6, CorelDraw 11
Color Mode: CMYK
Resolution: 300 dpi
File Size: 10.9 Mb
File Format: WinRar