Fruits are a great source of energy for the body as these yummy food items are full of vitamins, natural sweetness and are available in so many flavors which satisfy a person's cravings and make him feel refreshed.
These icons are our personal favorite creations and we are drooling over these exceptionally beautiful fruit icons for real. These flat icons can be used for various purposes. And everything depicting these icons will stand out because of the appearance.
Designed with a lot of imagination and creativity, we are glad that our extremely talented team of One Dollar Graphics created these 100 flat icons of fruits – the uses are infinite like these icons can be used for grocery stores' signage, websites, games, applications, flyers, brochures, pamphlets, products packaging, labels, menu books, fruit stalls and even for text books. Eatery owners can even have a collage created out of these icons and the visitors will fall in love with the place. As we said and now you have got to believe us that you will find a lot of places to make use of these icons.
These 100 flat fruit icons are available in Ai and EPS formats and can be used in accordance with the design demands. Our fruit icons are available in flat view – so what are you waiting for? Click to purchase this set of flat fruit icons, download these and use the icons in whatever way you like. Make your assignments and projects look great. Enhance the beauty of your clients' projects by using these icons.
We are sure that these icons will help you achieve your design milestones – download these, share the link with your friends and colleagues and create stunning visuals. You are welcome! J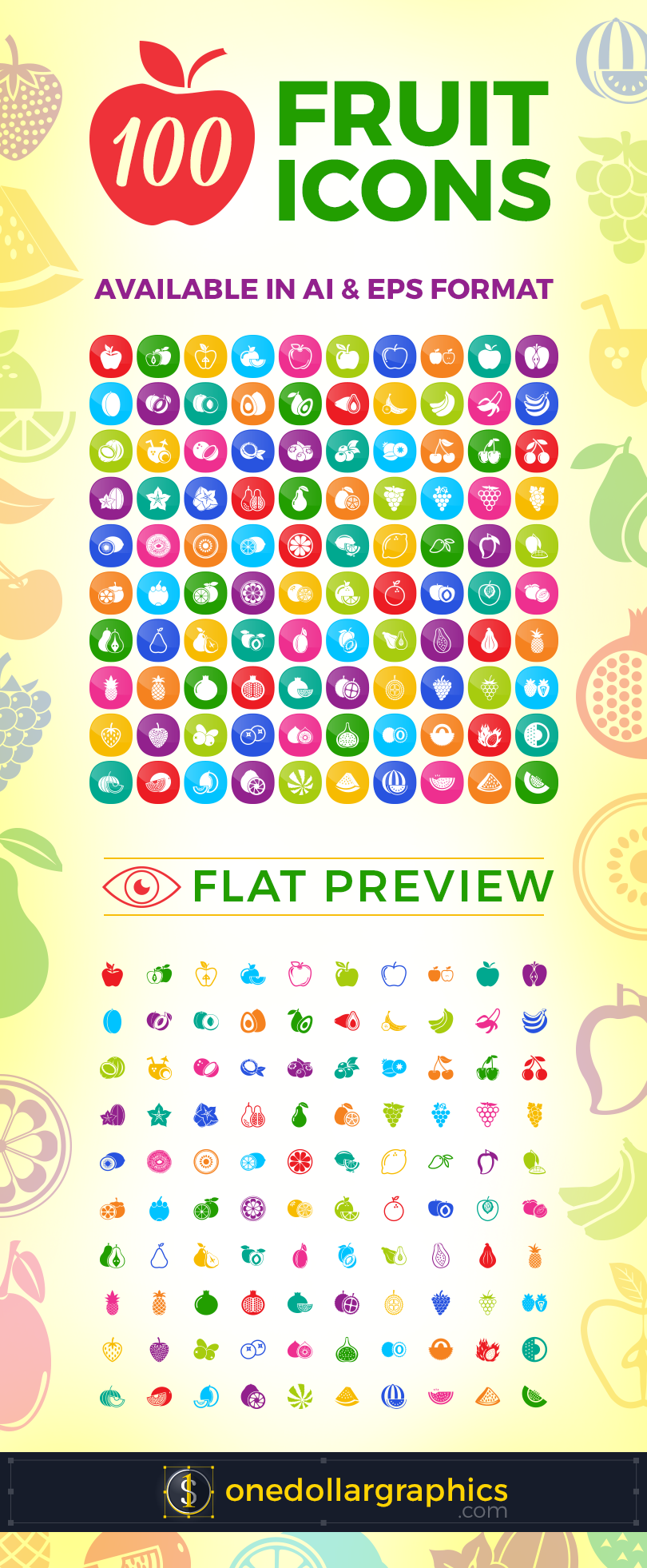 Following Icons Are Included In This Fruit Icon Set:
Apple Icon
Apricot Icon
Avocado Icon
Banana Icon
Coconut Icon
Blueberry Icon
Cherry Icon
Carambola Icon
Guava Icon
Grapes Icon
Kiwi Icon
Lemon Icon
Mango Icon
Mangosteen Icon
Orange Icon
Peach Icon
Pear Icon
Papaya Icon
Pineapple Icon
Pomegranate Icon
Durian Icon
Raspberry Icon
Strawberry Icon
Cranberry Icon
Fig Icon
Lychee Icon
Dragon Icon
Melon Icon
Pomelo Icon
Watermelon Icon
First Version: 100 Fruit Vector Icons (Ai & EPS File)
1 Project only for $1.00
Second Version: 100 Fruit Vector Icons (Ai & EPS File)
5 – 10 Projects for $3.00
Third Version: 100 Fruit Vector Icons (Ai & EPS File)
Unlimited Projects for life time for $5.00
Specification
File Type: Ai, EPS
Software Version: Illustrator CS6
File Size: 1.10 Mb
File Format: Zip
Color Mode: RGB