Icons are considered to be one of the critical elements of a design. As you know that icons are used to enhance the beauty of a design by using minimum words – another benefit of using icons is that even if someone doesn't understand a particular language, he will understand what is being said on a website, application or any system.
Since icons are extremely important for almost every design that is created – sets of icons are designed to use them for various purposes but the best part about a set of icons is that a graphic designer doesn't have to create anything from scratch. He would be able to utilize the icons according the requirements of the design projects.
There is no limit to a creative and imaginative mind. Every person has unlimited ideas for creating so many things almost every day and we are glad that our brilliant graphic designers created this amazing set of one hundred flat mobile phone and contact icons which can be used for several purposes.
Mainly, these mobile phone and contact icons can be incorporated on the design of mobile applications, website designs, marketing materials of telecommunication companies like their flyers, brochures, pamphlets, banners and ads (both for print and digital media).
In addition to the above mentioned uses of the flat mobile phone and contact icons, these icons can also be used for different study materials as well. Not only these icons are beautifully designed but these are also capable of serving the purposes of their creation too.
This set of 100 flat icons is available on the format of Ai and can be easily purchased from the website of One Dollar Graphic and after purchasing; you can easily download and start using them for your design projects.
Designers want to be laced with all the ingredients of designing, whether from the collection of immense fonts, to the colors, themes, textures, icons and more. They are always very curious about latest happenings and trends in the design world. So they make sure to have the best collection of diverse range of elements at their disposition to use them in the long run.
User interface, and website designs are made on daily basis by the designers therefore immense number of icons are needed; the most imperial out of all are the mobile phone icons. So we are presenting a gigantic collection to choose from, most of them will be of great help for you. We have also enclosed contact icons so if ever you require them, you can use them in your designs. Feel free to get to know more about these and for your queries.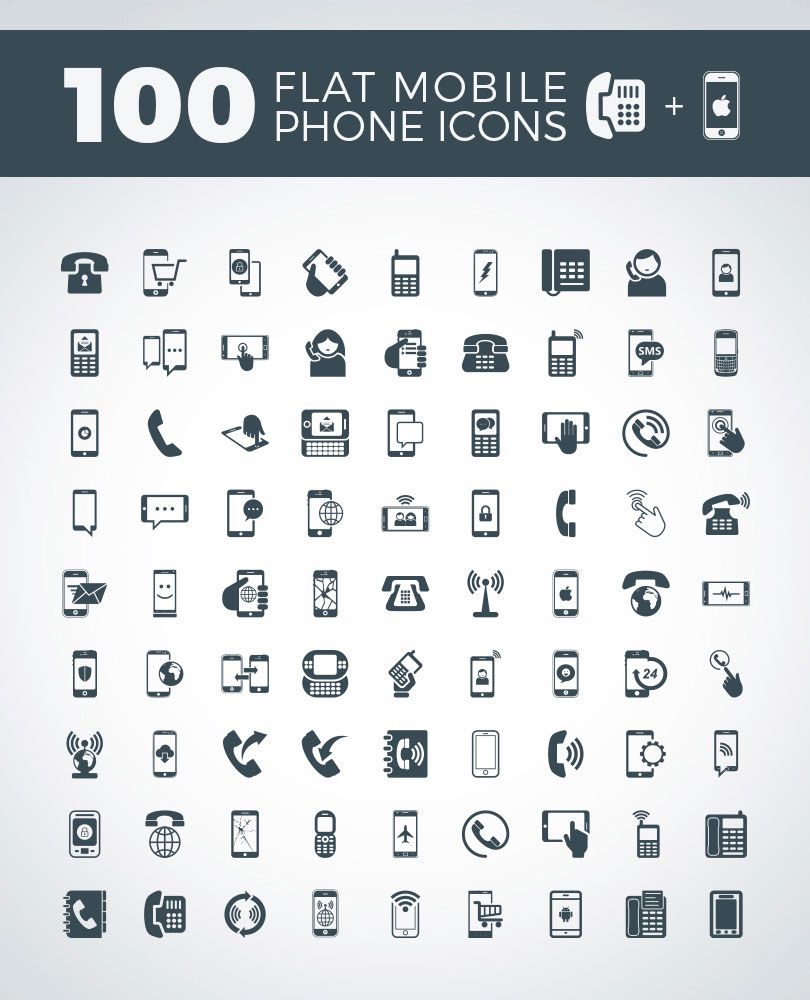 Following icons are included in 100 Mobile icon set:
Telephone locked Icon
Add item to phone card Icon
Secured data sync icon
Holding smartphone icon
Mobile phone icon
Mobile charging icon
Telephone icon, Male support icon
Contact support icon
Email sending icon
Sending message icon
Female support icon
Mobile options icon
Old telephone icon
Mobile Bluetooth
Mobile phone discoverable icon
SMS received icon
Motorola phone icon
Phone Pie Chart Icon
Contact Icon
Mobile Power-up icon
Open email icon
Mobile talk bubble icon
Mobile chatting icon
Touch mobile icon
Support icon
Phone Option icon
Phone advertising icon
Receiving message icon
SMS typing icon
Website browsing icon
Phone pairing icon
Locked mobile phone icon
Contact details icon
Touch icon
Phone ringing icon
Message sending icon
Message received icon
Browsing internet icon
Broken screen icon
Old telephone icon
Wi-Fi icon
iPhone icon
Contact global support icon
Heartbeat app icon
Mobile antivirus icon
Surfing web icon
Mobile pairing icon
Mobile gaming icon
Dialing icon
Mobile Searching icon
Mobile emoticons icon
Calling 24 hour support icon
Dialing support icon
Global network connecting icon
Downloading file through mobile
Calling phone icon
Call receiving icon
Phone contacts sync icon
Smartphone icon
Calling through Wi-Fi Icon
Mobile settings icon
Connecting through Wi-Fi icon
Locked smartphone icon
Global UAN Icon
Broken Phone icon
Flip mobile icon
Airplane mode icon
Phone support icon
Using table icon
Connecting radio icon
Wireless telephone icon
Phonebook icon
Calling local phone icon
Wi-Fi Bridging icon
Connecting globally icon
Searching Wi-Fi icon
Checkout icon
Android tablet icon
Receiving fax icon
Switched off mobile icon
First Version: (Ai file)
1 Project only for $1.00
Second Version: (Ai Vector File)
5 – 10 Projects for $3.00
Third Version: (Ai File + Free Lifetime updates)
Unlimited Projects for life time for $5.00
Specification
File Type: Ai
Software Version: Illustrator CS6
File Size: 1 Mb
Zip File Format: RAR