When a student gets past his university, his degrees hanging around his neck like a noose, looking up for jobs, finding a way for his livelihood; he perceives the best enterprises to apply and start his career over there. Business has a lot of tactics to get across. They never hire people of average intellect because they have a firm to run and that too cannot be run by less educated or less professionals.
However if you have good experience at your disposal, nothing is impossible for you. Well here I am providing you a post of 100 E-Commerce business icons that will be so helpful for you to imply them in your projects/assignments. These business icons can be used in the websites, powerpoint presentations, blogs, print templates or even on smartphones for UI/UX designers.
Icons are considered to be very important for a design – whether the design is of a corporate advertisement or a kids' education portal. All these icons are used to create a connection between some specific information or to explain functionality of a thing without using words.
The very interesting part of incorporating icons on a website is that these design elements create the mood of the thing these are used on. Icons are also used to increase the readability of a design effectively. These interactive cues enhance the beauty of a design and we absolutely love how these tiny things create a connection with something without actually explaining a concept. Also, icons do not know any language – these are there to help people understand stuff even if a website they are visiting was created in some other language.
Having an e-commerce platform for a business these days is not a new thing but since almost every business owner is thinking to go for an E-commerce website, there is always a need of having well designed and beautiful e-commerce business icons.
Knowing the routine of a graphic designer, we know that not every designer gets the time to create icons while working on different projects – which is why our talented designers have created this set of 100 E-commerce business icons which can be conveniently used for business websites, applications and online stores.
Other than that, these E-commerce business icons can also be used for marketing materials (brochures, flyers, products catalogues, banner ads, signage etc.) for both digital and print media.
Our 100 E-commerce business icons' set can be purchased anytime from our platform and after downloading this set, we are sure that you will always feel happy about making the right choice. These icons are available in Ai, CDR, PNG, SVG, PDF formats. Now stop wasting time and get these icons today so that you can continue creating awesome designs.
100 E-commerce Business Icons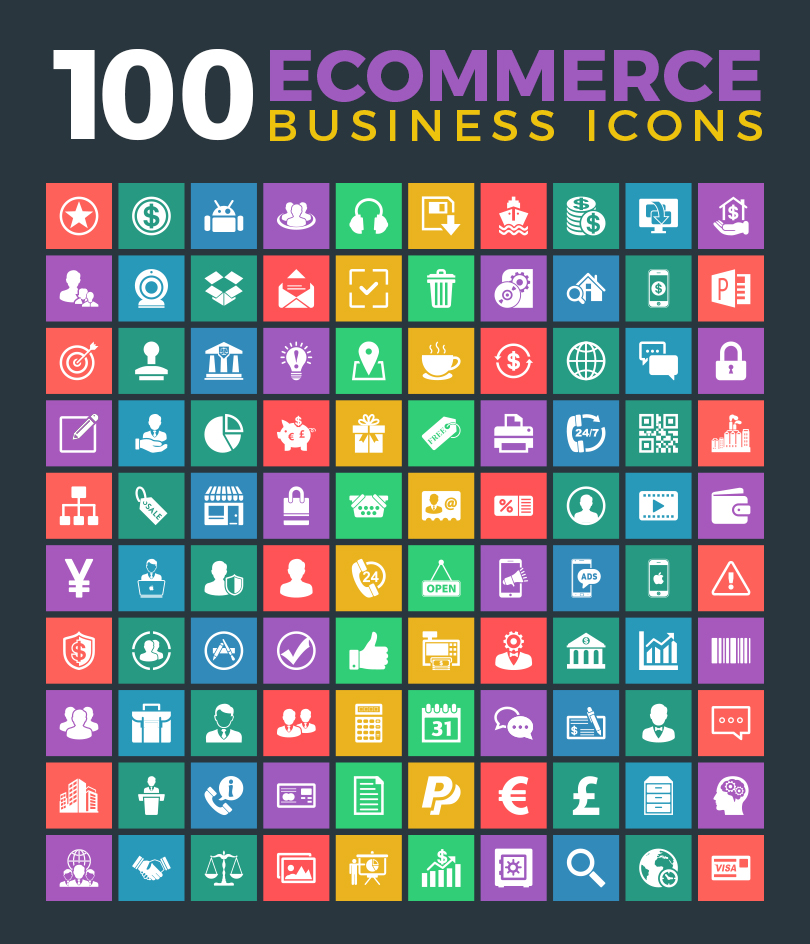 100 E-Commerce Icons Set Contains following Icons:
Favorites icon
American Dollar Icon
Android Icon
Network Icon
Music Icon
Save Icon
Cargo Ship Icon
Money Icon
Transfer Icon
House with dollar Icon
Accountant Icon
Admin Icon
Video Call Icon
Cam Icon
Dropbox Icon
Email Icon
Square Icon
Trash Icon
Software Icon
Research Icon
Payment Notification Icon
Power Point Icon
Target Icon
Rubber Stamp Icon
Law Office Icon
Idea Icon
Map Localization Icon
Coffee Cup Icon
Exchange Rate Icon
Globe Icon
Speech Bubble Icon
Security  Icon
Edit Icon
Protection Icon
Pie Chart Icon
Piggy Bank Icon,
Gift Icon
Price Tag Icon
Print Icon
Print Icon
24/7 Icon
QR code Icon
Production Icon
Flow Chart Icon
Sale Icon
Store Icon
Shopping bag Icon
Shopping Icon
Personal Card Icon
Voucher Icon
User Icon
Video Player Icon
Wallet Icon
Yen Icon
Worker Icon
Admin Icon
Customer Service Icon
Shop Open Icon
Advertising Icon
iPay Icon
Alert Icon
Security Money Icon
Analytics Charts Icon
Apple Appstore Icon
Approve Icon
Atm Money Icon
Automation Icon
Bank Icon
Bar Chart Icon
Batch Class Group Icon
Briefcase Icon
Businessman Icon
Business Partner Icon
Calculator Icon
Calendar Icon
Chat Icon
Checks Icon
Client Count Icon
Comment Icon
Company Building Icon
Conference Lecture Icon
Contact Info Icon
Credit Card Icon
Document Icon
Dollar Icon
Euro Icon
Pound Icon
File Cabinet Icon
Gears Inside Icon
Global Opportunities Icon
Handshake Icon
Law Icon
Photos Icon
Project Plan Icon
Stock Market Icon
Safe Icon
Search Icon
Timezone Icon
Visa Icon
First Version: (100 E-Commerce Business Icons)
1 Project only for just $1.00
Second Version: (100 E-Commerce Business Icons)
5-10 Projects for $3.00
Third Version: (100 E-Commerce Business Icons)
Unlimited Projects for life time for $5.00
Specification
Icon Diemension: 1024 Px
File Type: Ai, CDR, PNG, SVG, PDF
Software Version: Illustrator CC, Corel Draw 11
File Size: 2.8 Mb
Color Mode: RGB
Zip File Format: WinRAR