Keeping in mind one's target audience, a professional construction company can reach out to a lot of people through effectively designed marketing materials. A construction company's flyer mainly consists of creativity, nice layout and convincing content to increase clientele.
We will give you some design tips to create extremely outstanding and appealing professional construction flyers. Continue reading to design more awesomely.
It is very important to have a relationship of trust between a construction company and its potential clients. This relation is built when a company is capable enough to provide the best and unmatched professional services to the clients.
On the flyer, try to showcase at least two huge projects completed successfully by the construction company.
Icons, design elements and vectors enhance the beauty of an advertisement. Incorporate relevant icons and vectors etc. to create amazing flyers.
You might want to introduce your best team members who are passionate about constructing unique buildings. Use their high resolution pictures to use on the flyer design.
The colors play a crucial role when it comes to marketing. Use colors like yellow, white, gray, brown and black for creating professional construction flyer designs.
Add a Call to Action to your flyers design. Make sure to provide the clients with necessary contact information.
You can also share the names of different companies where the construction materials are bought from to create a crystal clear picture of the company itself.
Make sure that the flyer is not too wordy.
If you are planning to make it a double-sided flyer then you can use the back side to showcase a picture gallery of the previous projects.
You might want to divide the flyer in different sections also.
Since construction of a building, bridge, roads, flyovers etc. is a serious business. Maintain that decorum in the content as well as in the design.
You will notice that in the pictures, a dull background color is used which is highlighting the content as well as the design. We hope that by following the above mentioned tips, you will be able to create excellent professional construction flyer design.
Professional Construction Flyer Design Template Available in Two Colors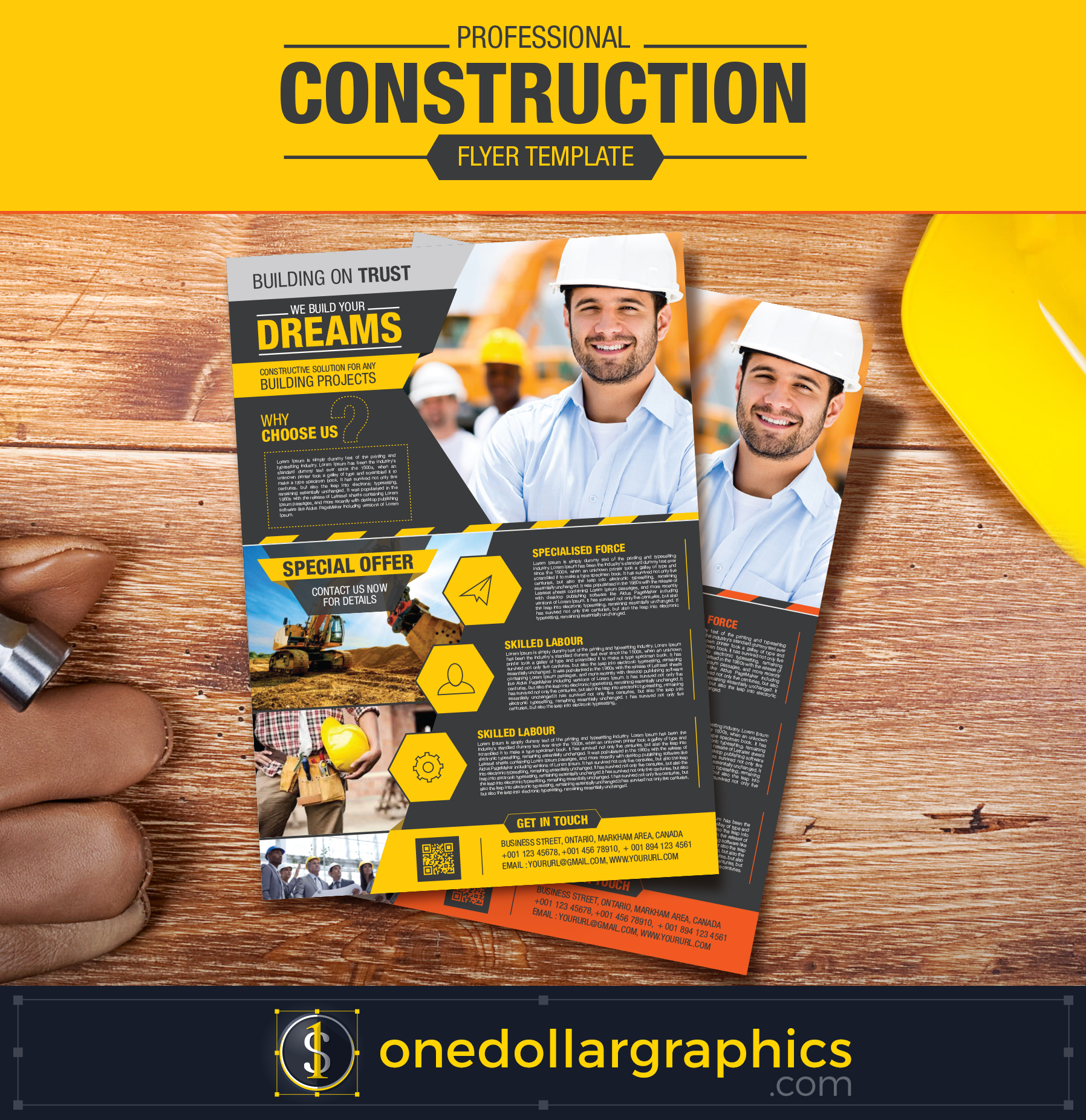 First Version: (Flyer Template Ai File)
For Single Project only
Second Version: (Flyer Template Ai File)
Up to 5 Projects
Third Version: (Flyer Template Ai File)
Unlimited Projects
Specifications:
Flyer Template Size: A4
File Type: Ai
Software Version: Illustrator CS6
Resolution: 300 dpi
File Size: 18.2 Mb
File Format: WinRar