Halloween is celebrated on October 31 of every year. And the party invitation of the Halloween night is one of the most awaited invites of the entire year. People and especially kids look forward to attending the Halloween parties being dressed up in their creative costumes. They try to look as spooky and scary as they can as some party organizers also announce special gifts for the best costumes as well.
The history of Halloween is linked with superstitions but with the passage of time, the whole thing is now celebrated in a more fun yet scary way. Different cafes and restaurants arrange Halloween parties for their customers so that a lot of people can come and spend a great time enjoying the masquerades, nice food, different competitions and games etc.
Families and friends also throw out Halloween parties among their social circles and get to spend good time with their loved ones. No doubt, Halloween allows people who crave for a break, enjoy to the fullest.
Keeping in mind the festivity and need of different party organizers to send out invitations, our One Dollar Graphic designer has created this attractive Halloween horror party flyer template. The texture on this template is creating a scary look which is a must for the design. In addition to that, this flyer template has all the necessary text fields created to mention the details of the horror party as well as the links of the social media accounts.
Halloween is all about gory makeups, spooky avatars and horrific ambiance that doubles up the enjoyment of Halloween day, as darkness is already prevailing in the city, what are you planning to live up the day? Youngsters and adults seem to be equally interested because this day is slightly and all the more different from the usual formal and informal settings.
Celebrate this outrageous day and think differently to add vitality and weirdness to the event of Halloween. Here I am giving you Halloween horror party flyer template that you can use on the parties and get together of Halloween. You can add up to your own info and words, this is ready to serve you the way it is. Boo!
So if you have a plan of throwing a party for your university fellows or if you have a client who is an eatery owner or a party organizer, this flyer template is for you. Get your hands on this template by purchasing it from our website. Download it and then make changes in accordance with the actual party. And have fun!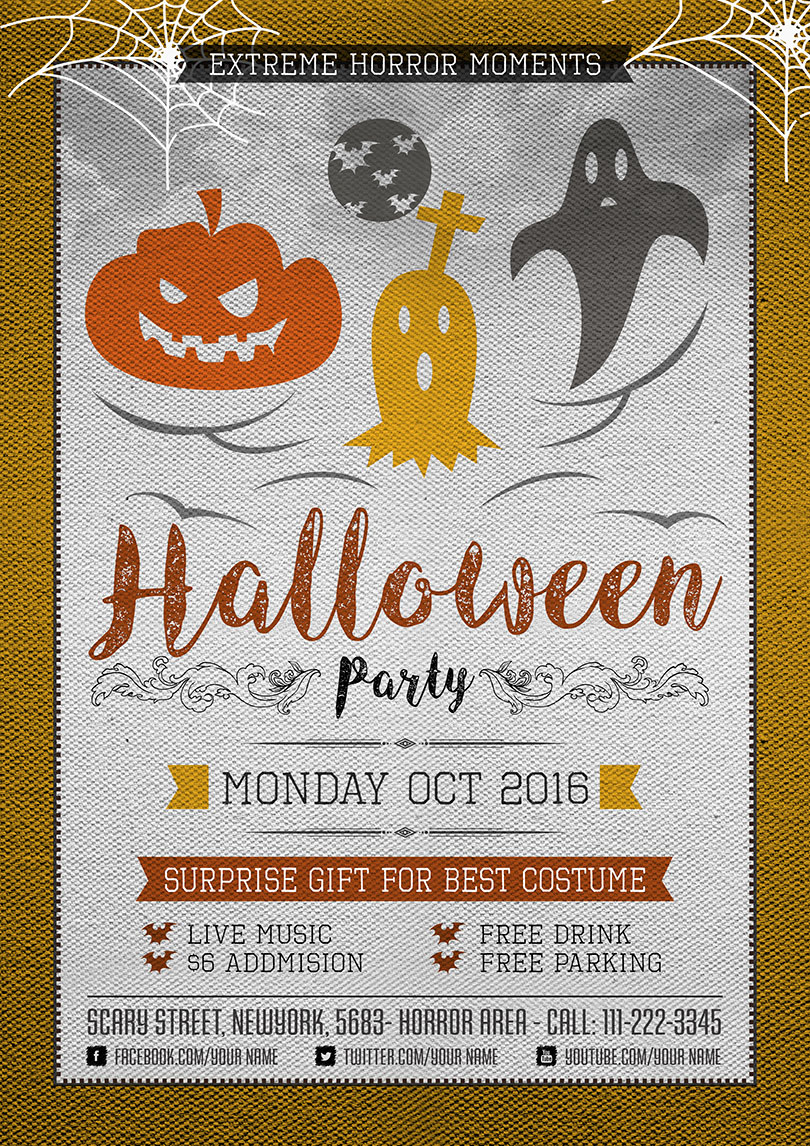 Celebrate Halloween 2017 like never before and give us your valuable feedback.