The two best parts about festivals and local occasions is that we get to eat a lot of food with family, friends and loved ones and sales, big massive sales on our favorite brands. And well, who does not like to purchase and exchange beautiful gifts with their favorite people?
Designs are not created just by sitting on the laptop and computer system doing hanky-panky, putting all things carelessly on the desktop. It demands the focus from you, an alert mind-map, a lot of ideas and a final implementation of it. Graphic designers are pro in this game of art. They jot down all the bits & pieces then they carefully craft the chain of elements to make the best out of it.
Cyber Monday is celebrated after Thanksgiving and according to general survey reports, brand owners happens to witness an increase of at least 77 percent in their sales.
Every year when Christmas approaches, everyone gets busy in buying loads of stuff for themselves and for their relatives etc. – because, every big and small brand announces discounts on their regular products and services. This practice is considered to be a really good one for the business owners as well as for their existing customers. Brands can also make new customers by being considerate for them in the way of cutting down their prices.
So whenever a brand has to announce a thing to attract a larger audience, flyers and brochures come in handy and prove to influence the shopping patterns of the consumers / customers. Keeping in mind this marketing technique, our designer has created this stunning Cyber Monday Sale flyer template design. This design template is ideal to roll out to potential as well as to existing customers.
The size of this sale flyer design is A4 and it is available on three different formats which are listed below;
This flyer can help you promote a business in a very intriguing manner – like the customers won't resist visiting the stores after seeing this marketing material coming from a well reputed brand.
So let's not stop any more time in deciding whether to get this design template or not. Purchase this from our website and start making the best of the flyers today!
Cyber Monday Sale Flyer Template Design in Ai, Eps & PDF Format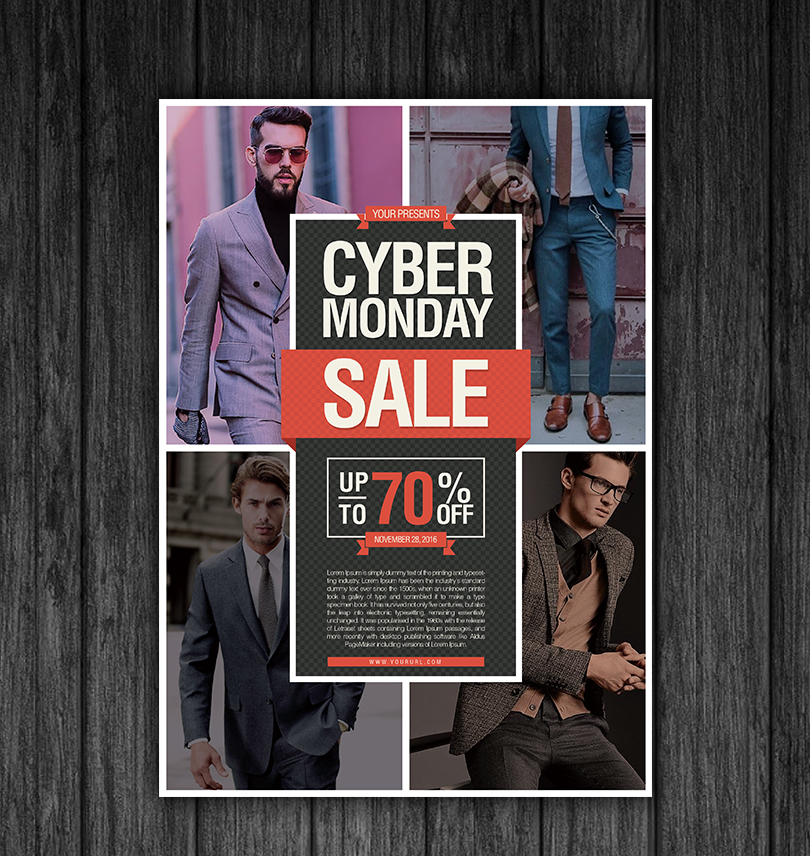 First Version: (Ai, Eps & PDF File)
For Single Project only
Second Version: (Ai, Eps & PDF File)
For 5 – 10 Projects
Third Version: (Ai, Eps & PDF File)
Unlimited Projects
Specifications:
Flyer Template Size: A4
File Type: Ai, Eps & Pdf
Software Version: Illustrator CS6
Resolution: 300 dpi
File Size: 9 Mb
File Format: 7-zip