All of us are aware of the importance of creating stunning and appealing marketing materials for any business regardless of the fact that how big or small the business is. A beautiful visual of a shop or an online store can help a business make or lose its customers / consumers – which obviously means that a lot (A LOT) depends on the marketing techniques and materials of a business.
Have you ever noticed what a start-up or a new business owner did to have made thousands of social media followers? And how a newly launched company was able to increase their sales in less than a month's period? Well, in addition to a company providing excellent products and services, the business owners were able to find extremely talented and highly skilled graphic designers who through their amazing work helped the business stay ahead in the game and win hearts and appreciation.
In this digitally connected world, nothing seems to be impossible. So, if your client is planning to open up an art shop and has contacted you to send him ideas and designs for the outdoor advertising signage – stop looking around anywhere else as we have created the best outdoor art shop window signage mock-up PSD for you.
This mock-up will help you create the window signage depending upon your client's requirements and we are pretty sure that you will be able to rock your mock-up presentation instantly. Trust us, all you have to do is to purchase this mock-up from our website, make a few changes and contact your client to show him how his required art shop window signage is going to look like for real.
So what are you waiting for? Get your hands on this PSD file and start working on the project already! And here is to hoping that you surely will ace the presentation because of this mock-up and your amazing design skills. Good luck!
Outdoor Art Shop Window Signage Mock-up PSD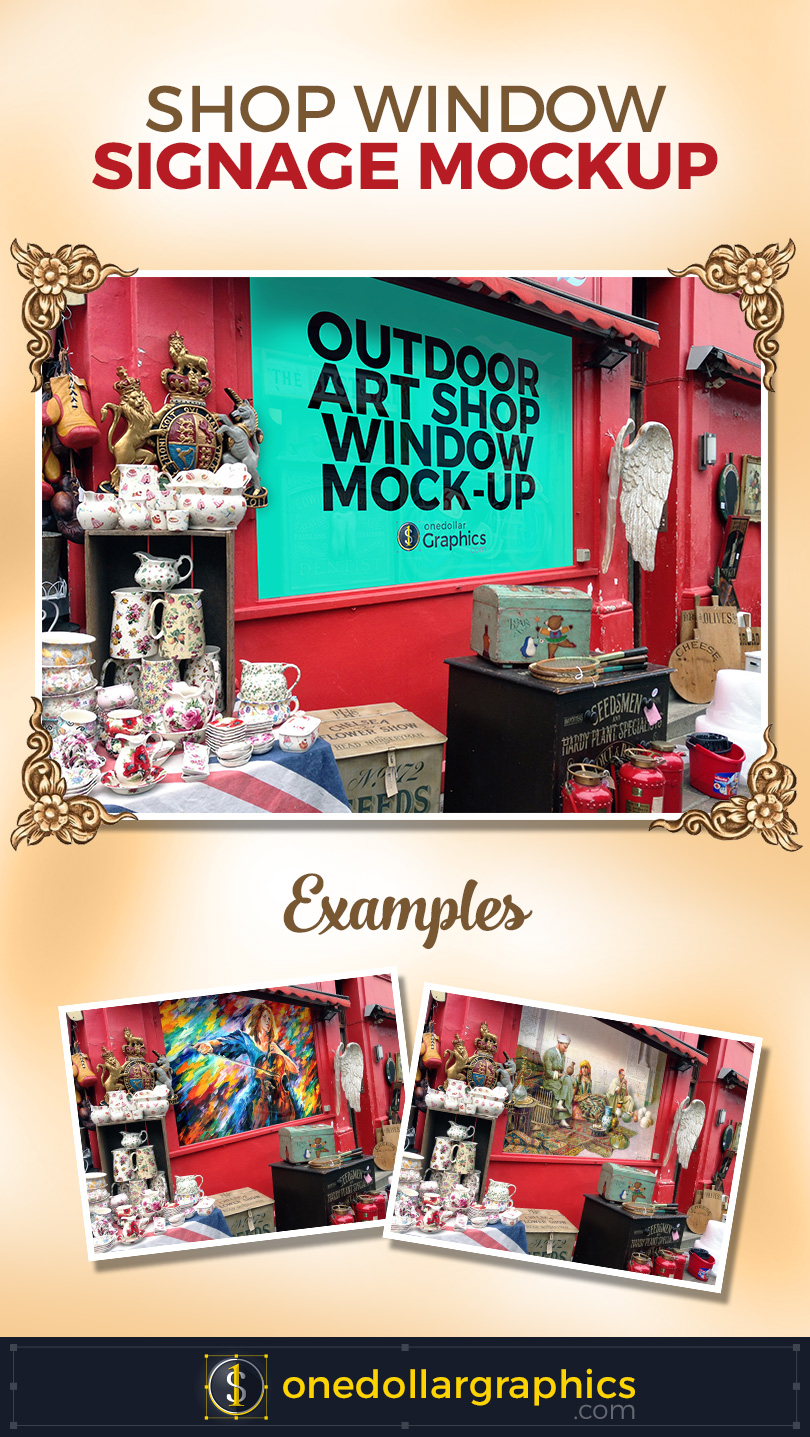 First Version: (Art Shop Mockup PSD)
1 Project only for just $1.00
Second Version: (Art Shop Mock-Up)
5-10 Projects for $3.00
Third Version: (Art Shop Mock-Up)
Unlimited Projects for life time for $5.00
Specification
Outdoor Mockup Dimension: 4000 x 3000 Px
File Type: PSD
Software Version: Photoshop CS6
File Size: 27 Mb
Color Mode: RGB
Zip File Format: 7-zip (Only Opened with 7-zip) Read before extracting