Have you ever wondered what makes a consumer buy a product among other options which are available? And what forces a person differentiate a beautiful bottle of oil or a drink only because it looks nice? Or have you ever noticed that the power of marketing which makes a product stand out in a supermarket's aisle that people just go there and pick that product because of the packaging?
Keeping this point in mind, it is safe to say that a brand's fate depends not only on the quality of the products or ingredients but it is also dependent on the look and feel of their packed items. And yes, this statement is valid for every single brand that exists on the face of this earth.
We know that launching a brand is not an easy task. It demands full time attention, a lot of creativity and resources, budget and people who are able to make that brand stand out in the market. These people could be designers and marketers but their job is to create awareness for the people about the brand directly and indirectly.
A client asks to see how his product will look like for real and this is the time when a mock-up saves a lot of time of a designer but happens to give excellent results in creating a realistic picture of a product's packaging.
For this very purpose, our amazingly talented graphic designer has created this realistic jam bottle mock-up. This file is available in the PSD format and yes, it can be edited according to a brand's requirements.
Purchase this mock-up from our website, download and edit it depending on your wish. We are confident to say that you will not only get appreciation during the client's presentation but you will definitely bag the project for yourself as well.
So what are you waiting for? Click on the 'Purchase' button now to get hold of this jam bottle mock-up PSD for packaging. We wish you all the luck for your presentation.
Jam Bottle Packaging Mock-up PSD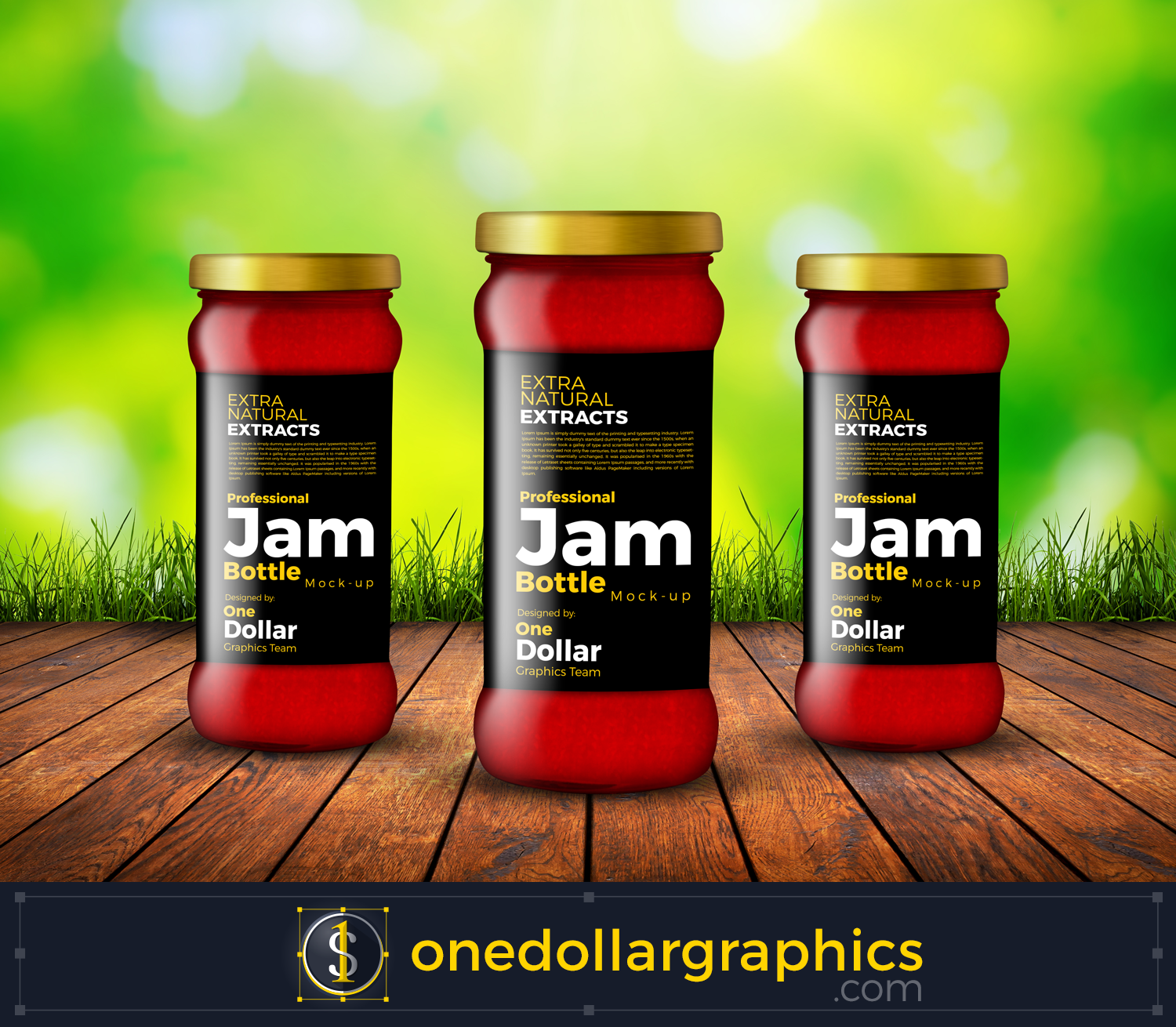 First Version: (PSD Mock-Up)
1 Project only for just $1.00
Second Version: (PSD Mock-Up)
5-10 Projects for $3.00
Third Version: (PSD Mock-Up)
Unlimited Projects for life time for $5.00
Specification
Mock-up Dimension: 4000 x 3000 Px
File Type: PSD
Software Version: Photoshop CS6
File Size: 6 Mb
Color Mode: RGB
Zip File Format: WinRAR