Halloween is knocking at the threshold, and its horror is spreading its wings around us, there is a lot to do this Halloween. From the décor to the costumes, things are to be aligned before the gongs start blowing up the ambiance. Since the event is all about weird happenings; we can only share something outrageous mutually.
The history of celebrating Halloween goes back to the ancient religion of the Celtic tribes who were inhibited in the areas of Britain, Scotland and Ireland. These days, Halloween has become a festival of fun for small children when they get dressed up as ghosts and witches etc. on October 31 of every year and they go from house to house asking for a 'trick or treat'. These kids are given candies or fresh fruits so that the adults are not tricked by the cute little monsters.
Whenever festivals like this approach, every company and brand comes up with different sales and products' launch so that their existing and potential customers are benefitted in one way or the other. And that is the best time to market a brand so well that people keep looking forward to its deals and products related announcements in future as well.
From sales banners to website banners to creating Halloween party invitation flyers and brochures, we know that a graphic designer will need excellently designed icons which are why our designer has created a set of high quality long shadow Halloween icons. The long shadow icons will create that perfect dramatic look which is needed for a Halloween related advertisement, packaging or any other marketing material for that matter.
This set of Halloween icons is easy to purchase and download and is available in the formats of Ai, CDR, PNG, PDF, EPS. So what are you waiting for, fellow graphic designer? Purchase these icons from our website today and make the best use of all these long shadow icons.
Since we are here to help you creatively, we would also want you to share the link of our platform with your colleagues, friends and relatives so that they also continue to creating awesome designs.
Here I am providing you a post of 50 High Quality long shadow Halloween icons that you can use in your Halloween projects, posters, flyers, buntings and Halloween cards. These icons are showing the right spirit of Halloween, are colorful and they are throwing light at the darkness and creepiness of the event for sure. Have a look!
50 High Quality Long Shadow Halloween Icons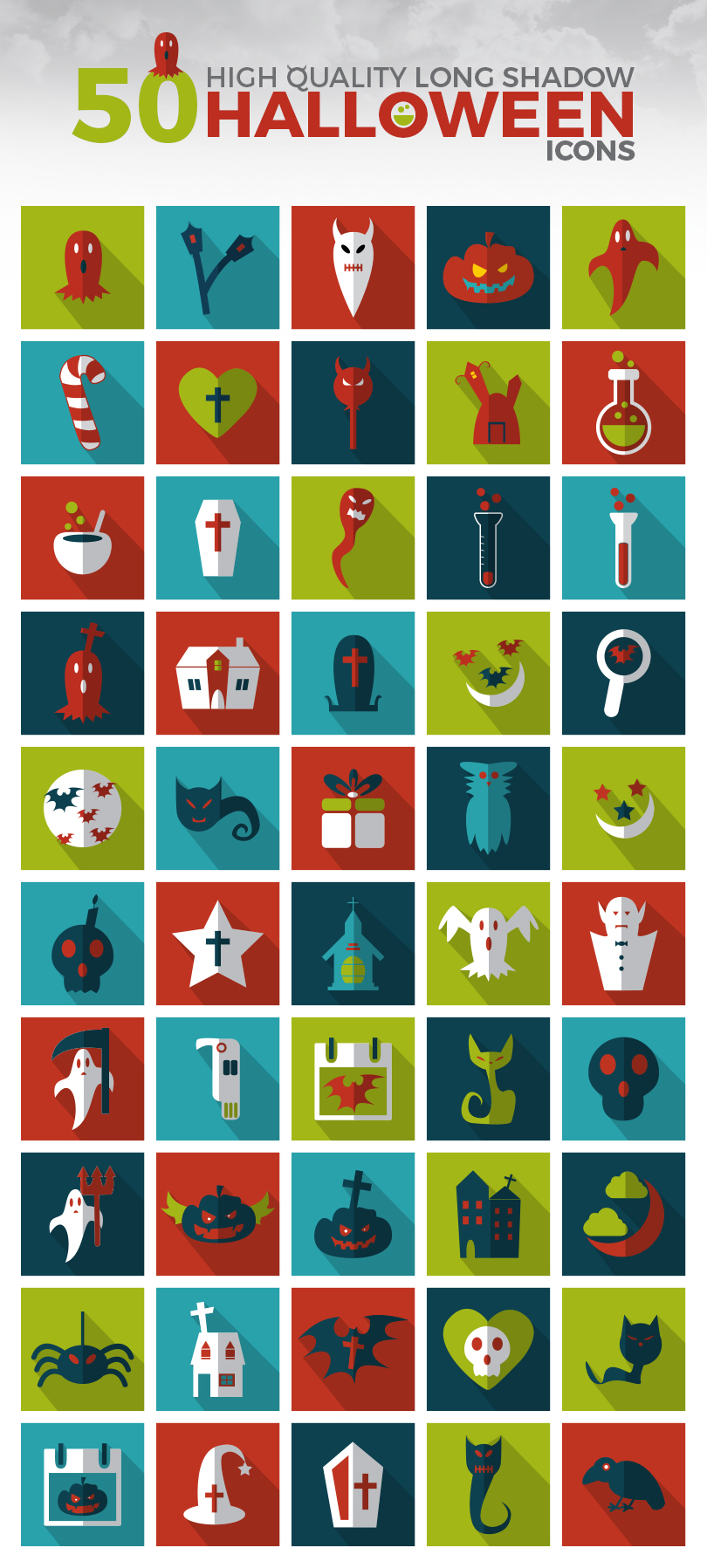 First Version: (PNG + Vector Icons)
1 Project only for $1.00
Second Version: (PNG + Vector Icons)
5-10 Projects for $3.00
Third Version: (PNG + Vector Icons)
Unlimited Projects for life time for $5.00
Specification
PNG Dimension: 512 Px
File Type: Ai, CDR, PNG, PDF, EPS
Software Version: Illustrator CS6, Corel Draw 11
File Size: 4 Mb
Color Mode: RGB
Zip File Format: WinRAR